VIBE Arts is pleased to introduce the second cohort of RBC Desire Lines: Women's Work Artists.
You can see their work at The Gallery at Mason Studio until November 30, 2022. Learn more about this exhibition here. Their time in the program has culminated in a city-wide public exhibit. You can view their original artwork in TTC stations across the city starting February 6, 2023. You can also see their work online all year round, click here.
RBC Desire Lines: Women's Work was born out of the disproportionate effect the COVID-19 pandemic has had on women and the BIPOC population. VIBE identified an urgent need to support and platform BIPOC female-identifying artists. Desire Lines: Women's Work was specifically designed to provide young female artists the opportunity to grow their careers in the arts through networking, mentorship, professional development and exhibition opportunities.
RBC Desire Lines began in 2019 as a two-year art-in-mentorship program awarding young, emerging artists the opportunity to exhibit their work in subway stations across Toronto after attending a wide offering of professional development workshops. The program is now wrapping up its fourth cohort thanks to funding from RBC Foundation.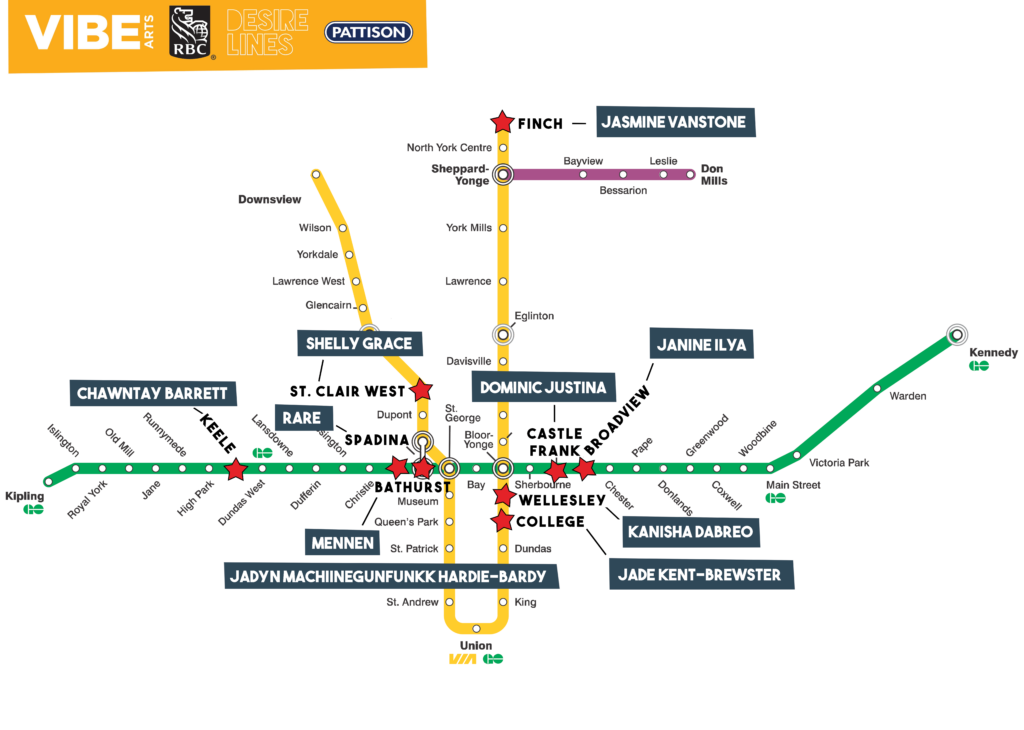 Get to know the RBC Desire Lines: Women's Work Artists:
Chawntay Barrett: "My ultimate goal is to create more of the art that I want to see in the world. I want to see more art with subject matter that resonates with my community. I hope that having my artwork in such a public space provides access to people who identify with the subject matter of my work to feel seen and empowered."
Dominic Justina: A creative originally from Jamaica, Dominic was born into a musical family where reggae music put bread on the table. She dabbles in poetry and digital media, currently producing the Life on Hifi podcast inspiring others to create. "Years ago when I would take the TTC religiously, I'd stare at panels that resonated with me in the station and these would evoke emotions to help calm me, bring me joy or make me think as I waited for my train. Now I will be the artist that can influence commuters in this way and that feels incredible."
Jade Kent-Brewster: Jade Kent-Brewster is a self-taught mixed media artist and dancer based in Toronto, Ontario. As an artist she works hard to produce pieces that speak to who she is as a creative and are impactful to the viewer. "Being able to have the opportunity to exhibit my work at a large scale makes me feel proud because I am able to share my craft and inspire others."
jadyn machiinegunfunkk hardie-bardy: A self-published poet and beadworker exploring culture, land, adversity faced while navigating colonial institutions and beating those barriers. "It's an opportunity that I'm super honoured to have and I'm excited to see what doors it will open if any."
Janine Ilya: J. Ilya's practice centers around capturing the concept of intimacy and vulnerability, in relation to place, others and oneself. "This experience has taught me a lot about my engagement to public transport and the importance of honouring the hundreds of body's that pass me by on a daily basis. I feel a deep honour to be a small part of these people's commute and to be able to engage with them through my work."
Jasmine Vanstone: Jamaican-Canadian Multi-Disciplinary Artist & Arts Administrator. "I'm grateful to exhibit my art in the TTC because this opportunity allows me to take up space both literally and figuratively!"
Kanisha Dabreo: A Caribbean-Canadian multidisciplinary artist, digital designer, and muralist. "I am extremely grateful for this opportunity! I never expected my love of the arts would lead to so many unforgettable interactions and experiences."
Mennen: "Conceptualizing work around the human figure or condition and the desire to make social commentary are my drive. My work is explorative, subjective and thought-provocative, revealing playful intent. It's such a privilege that I didn't think I'd be getting so early on in this journey. To have my work/message put in a place of that nature is pretty special!"
Rare: A Toronto creative who is passionate about community work, poetry, photography and storytelling. "I can say I finally feel that I could represent for my inner child and feel complete as a person. This is a key in my purpose, my future and makes my heart feel fulfilled."
Shelly Grace: Shelly Grace uses her art for community building and healing, focusing on the experiences of women and the Black community. "Having my work exhibited in the TTC is a dream. Having that many people view my work is both wonderful and terrifying."
Want to look back at the previous Desire Lines cohorts? Visit the online gallery showcasing their work.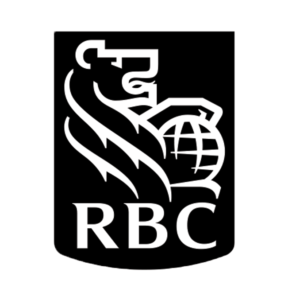 Desire Lines is made possible by RBC and presented in partnership with PATTISON Outdoor Advertising.