October 6, 2022 @ 6:00 pm – October 16, 2022 @ 6:00 pm
Opening Reception & Artist Talk: Thursday, October 6, 6-9 PM
Online Artist Talk: Wednesday, October 12, 5-7 PM*
Gallery Hours:

Fri. October 7, 2022 – 11:00am 6:00pm
Sat. October 8, 2022 – 11:00am 6:00pm
Sun. October 09, 2022 – 12:00pm 4:00pm
Tue. October 11, 2022 – 11:00am 6:00pm
Wed. October 12, 2022 – 11:00am 6:00pm
Thu. October 13, 2022 – 11:00am 6:00pm
Fri. October 14, 2022 – 11:00am 6:00pm
Sat. October 15, 2022 – 11:00am 6:00pm
Sun. October 16, 2022 – 12:00pm 4:00pm
*This Artist Talk is free to attend, registration is required
---
Converge showcases the collaborative artwork of 16 youth artists on the VIBE Arts roster from different cultural backgrounds. These artists have been paired up to create 8 unique works of art that represent both artists cultural backgrounds in an attempt to put on display the similarities and differences between the roots of those living in Canada.
Throughout the process, the artists explored each other's heritage through a knowledge exchange to understand how these backgrounds are represented in each other's artwork. VIBE Arts has provided the resources for these artists to create a unique piece that they will speak to at a series of artist talks in service of exploring these cultural differences with a wider audience.
This exhibition is presented in partnership with TO Live and made possible by The Government of Canada's Community Support, Multiculturalism, and Anti-Racism Initiatives (CSMARI) Program.
Converge Artists: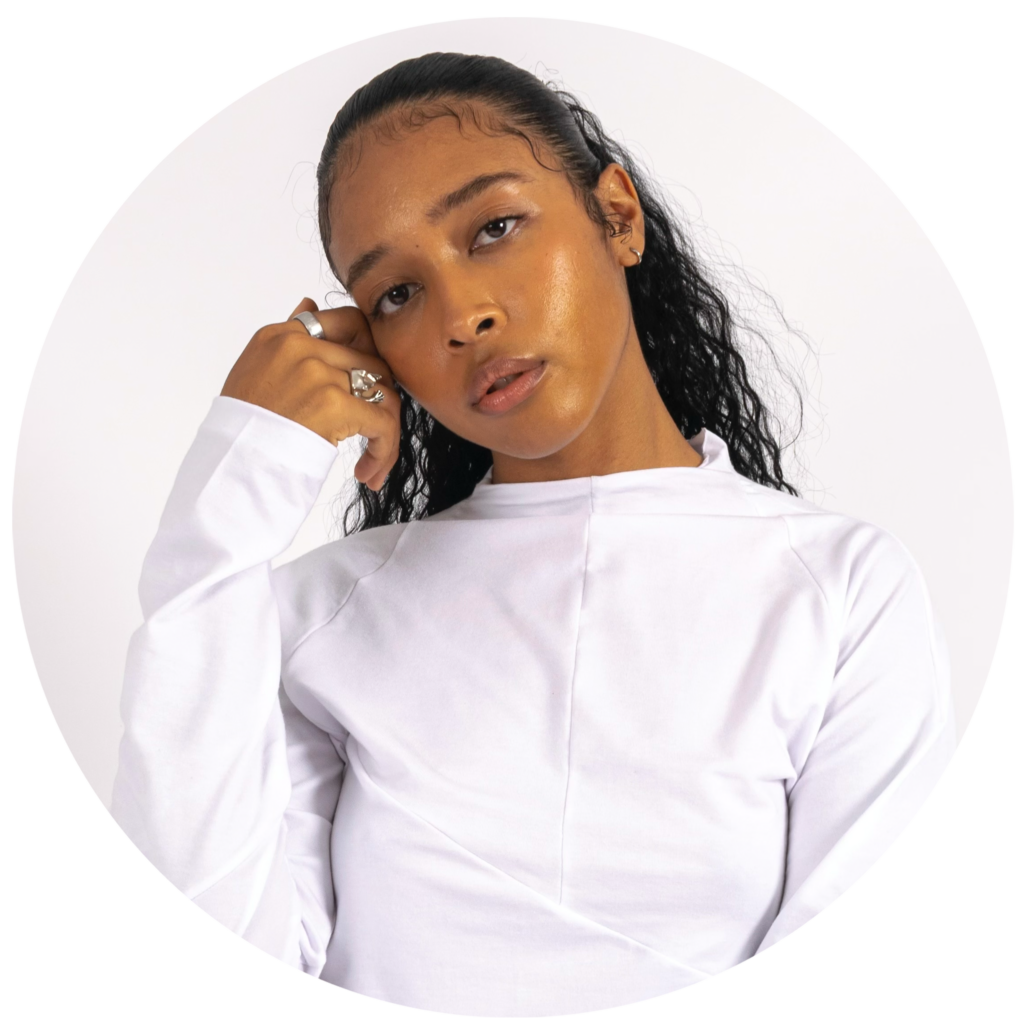 Alia is a Bahamian-Colombian multidisciplinary artist with a focus in ceramics currently based in Toronto. Her work is translated through the investigation of traditional precolombus ceramic techniques and applying them to her modern works. Bringing to life melancholic figures and forms using traditional methods while drawing inspiration from her history.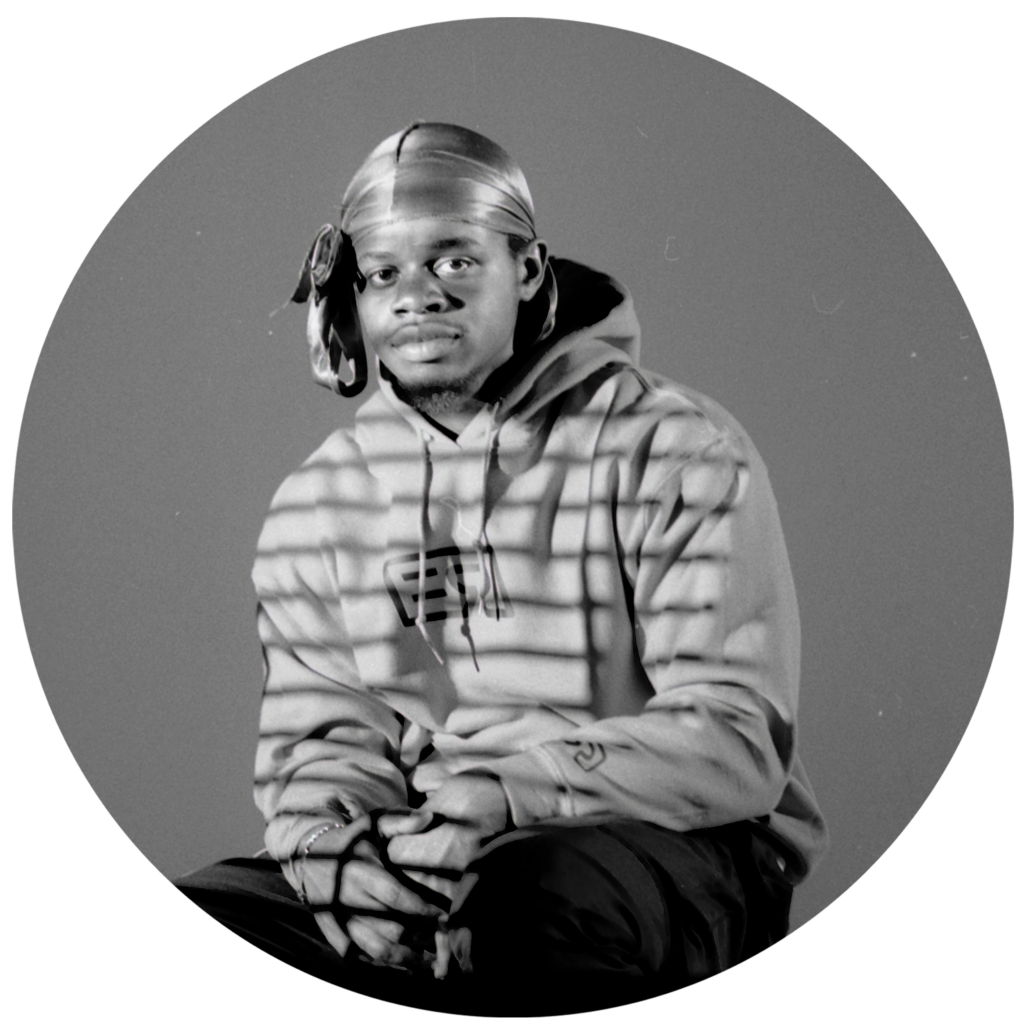 SRE (pronounced "sorry") is a multi-talented creative who can be best described as distinct and fierce. Ranging from a number of styles from Hip Hop, R&B, Spoken word, and more, SRE is very detailed when it comes down to choosing the right instrument and setting the tone to help set the mood he wants not only for his audience but for himself. Born and raised in Scarborough, Ontario, SRE speaks through a different lens through his artistic approach- sonically and lyrically. With inspirations coming from a variety of genres, his love and inspiration for music continues to form his journey through life and future aspirations.
Meet Me
By merging clay and sound, we invite you to experience connection once again through our work Meet Me. A collaborative piece inspired by the isolation brought on by the pandemic. Our interactive sound display consists of ceramic creation and music production by two artists who indulge in separate mediums. Vinyl's were one of the very first physical forms of harnessing sound, and clay is one of the oldest forms of visual art there is. We combined those two historic forms and incorporated our modern tech of QR codes. No matter the medium or time period, there will always be a way to meet.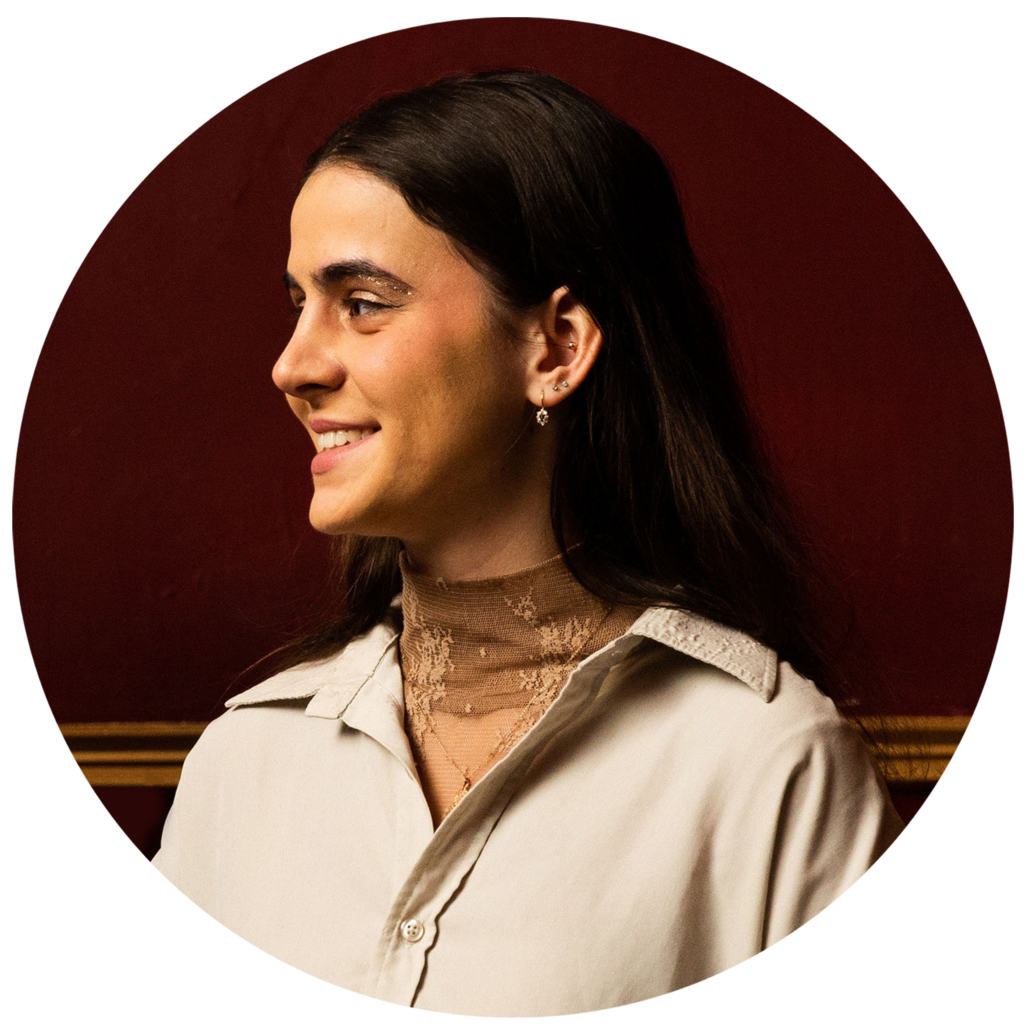 Andrea Josic is a queer, Mad, Bosnian-Canadian poet and performer based in the GTA. AJ was the champion of the 2020 Toronto Poetry Slam and the 2019 Feminine Empowerment Movement Slam. She's a national award-winning journalist and poet whose work can be found in This Magazine, Xtra, Amble Mag, Mélange Creative Arts Journal, and more. As an Emerging Artist with VIBE Arts, they hope to cultivate healing and community joy in their work.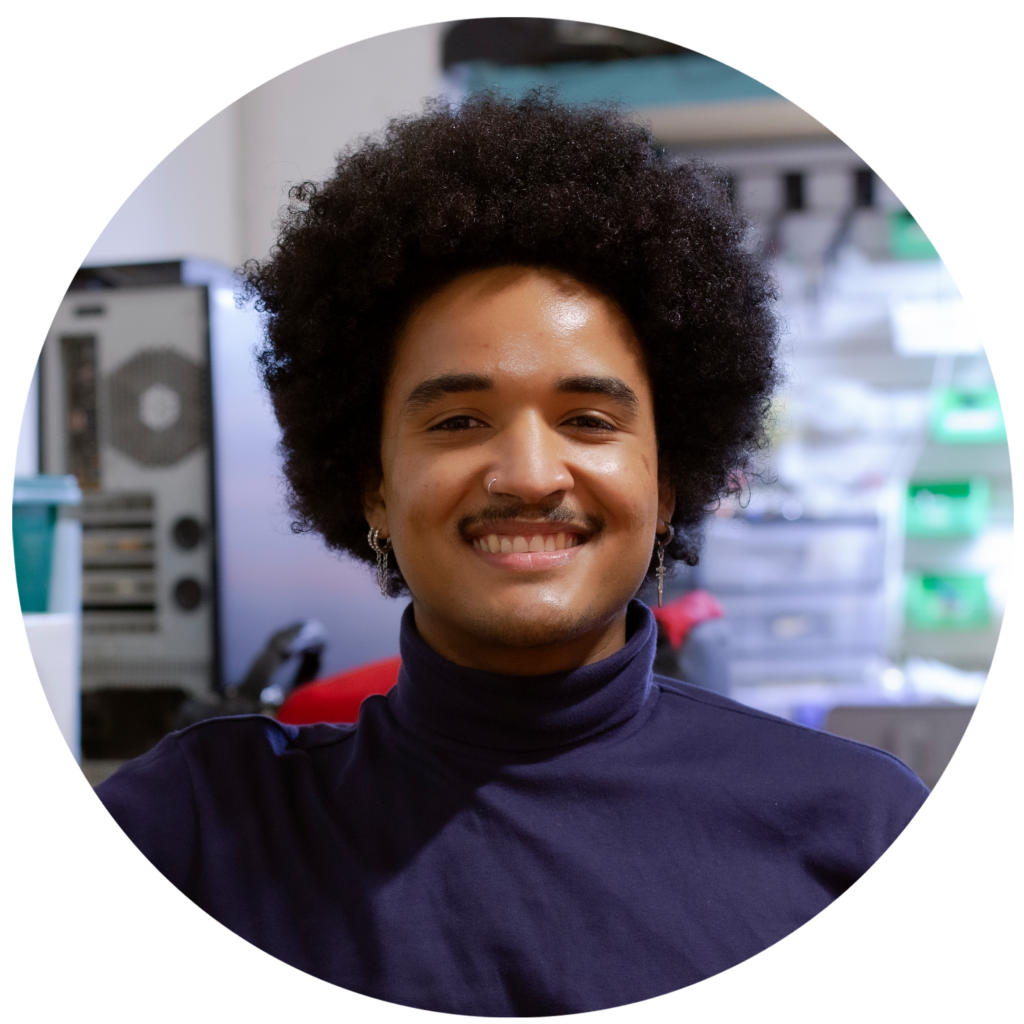 Tristan Sauer is a New Media Artist and Curator working with physical computing, wearable technology, and 3D fabrication. Sauer's practice is critically focused on technology and capitalism, viewing their relationship as a potential modern-day Pandora's box. He is interested in the intersections between our digital and physical worlds, and how technology affects the various facets of human existence. Often expressed through his own identity as an Afro-Canadian, Sauer explores these topics through both an Afro-futuristic and Afro-Pessimistic lens.
Ode to a Digital Childhood
As online space becomes more synonymous with capitalist ventures the original intention of the internet to provide free and unfiltered access to community, information, and resources is now a radical act in the face of pay-for-use services. Sharing is a radical act, still seen through protected spaces such as wikis and online message boards, most of which have resisted the ability to profit off their existence. These complicated relationships with capitalism have gatekept access to community and created alienation in online spaces originally designed to connect. The artists see sharing as a radical act, joy as a radical act, in the face of structures that no longer hold these principles close. Through the exploration of both digital and physical sharing, the artists attempt to create a shrine to resistive sharing and attempt to imagine a more community-focused future in our physical and digital worlds. The artists have created a collection of both their own personal work and sourced work from the internet that speaks to their own experiences navigating the digital world.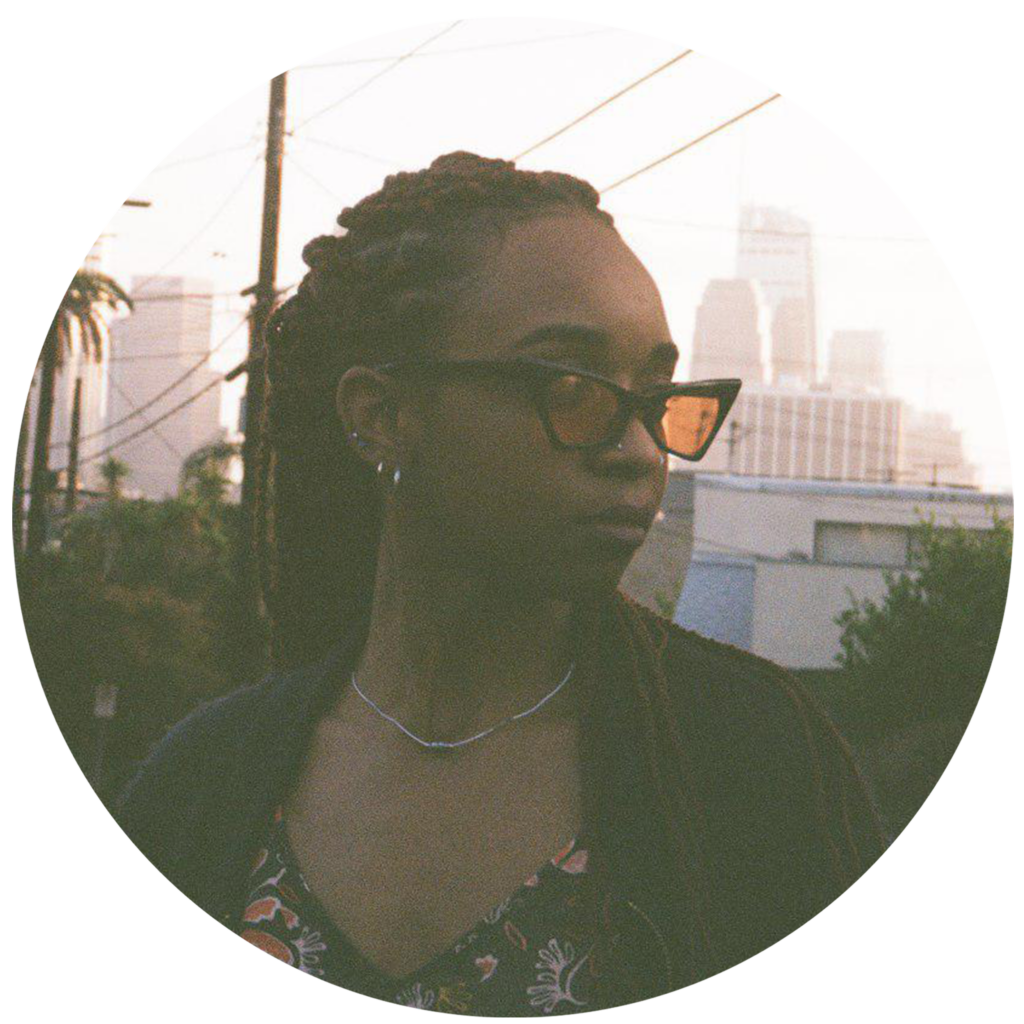 Nyaomi is an artist from Toronto with experience shooting and exhibiting in North and South America. Her artistic practice can be defined as personal narratives that explore subjectivity, the body and challenging issues. She aims to bring awareness to what's been repressed and show alternative ways of thinking.
In recent years, she has worked with Airbnb, WeWork, Maclean's, LinkedIn, the City of Toronto and more. Inspired by her thesis–research on depression as a form of communication and catalyst for self-renewal–she continued creating with transformation in mind. Nyaomi has since expanded into textiles to further explore the connections between our mental health, our environment and the power of creating something tangible. She is an OCAD University graduate with years of experience as a freelance photographer, entrepreneur, and facilitator.
In short, Nyaomi is an artist who continues to find ways to combine her passion to create with her interests in health and wellness. In all that she does, she hopes to inspire transformation.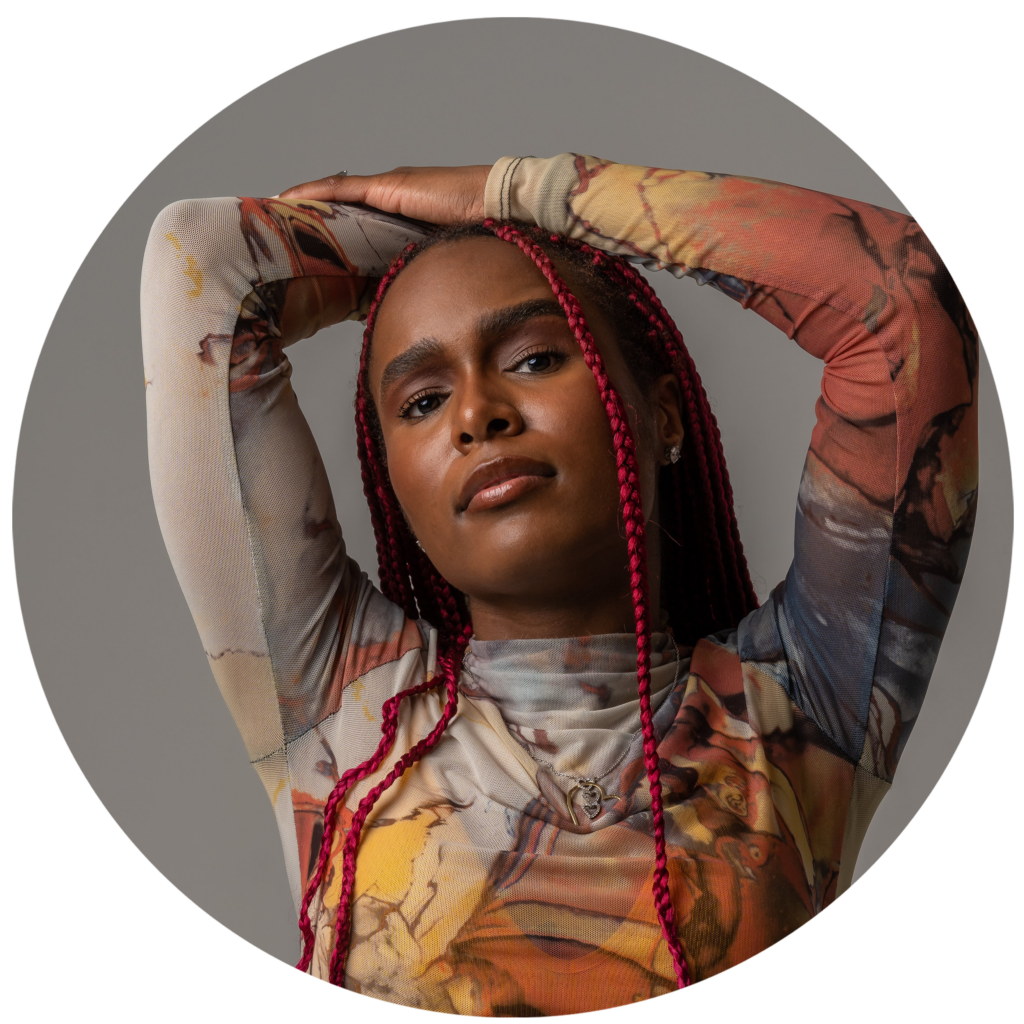 Shaniece Phillips is a dancer, choreographer and creator from Rexdale.
Her dance dreams began watching her older sister teach hip hop classes, studying music videos on 106 & Park and watching You Got Served 10,000 times, as well as her Jamaican culture. As she teaches, she hopes to convey the crucial message that dance is a full, comprehensive culture of people, places, and history. When she teaches she will always make it known that dance is a living and breathing thing that exists outside of the studio. It was not born in pristine studios with glass mirrors. The pioneers of these dances often didn't have access to these spaces. These dances were often born out of struggle, rebellion, celebration and the fight to be seen and take up space. She does this through her work as an instructor at City Dance Corps. Studio in Toronto. She is also heavily involved in her community through her years of youth work, community arts work through Vibe Arts, and work with survivors of trauma.
Shaniece graduated from the University of Guelph-Humber in 2016 with a Bachelors' degree in Psychology. She now studies at the Create Institute in Toronto, training to become an Expressive Arts Therapist, where she learns to use not just dance, but all modalities of art to access healing. While still pursuing her dance dreams, she hopes to inspire those from her community to find the power of dance.
I Was Different
"Transformation or change requires a phase in which one gives up existing structures and enters a chaotic state of being… New meanings emerge in symbolic and metaphorical form. Play and art take place through an immersion in formlessness. Transitional and liminal states are phases in a process of destructuring and restructuring. Their ultimate purpose lies in the new meanings which emerge out of the ruins of the old. One comes out of these temporary conditions refreshed and with a new sense of purpose. It seems as if both social & individual life require rejuvenation in order to be experienced with a sense of meaning and feeling of vitality… The old order must be destructured to make way for the new. If we are not willing to undergo this experience of coming apart, we will not be able to experience ourselves as fully alive". (p. 50-51)
Source: Principles and Practice of Expressive Arts Therapy: Toward Therapeutic Aesthetics; Paolo J. Knill, Ellen G. Levine & Stephen K. Levine (2004)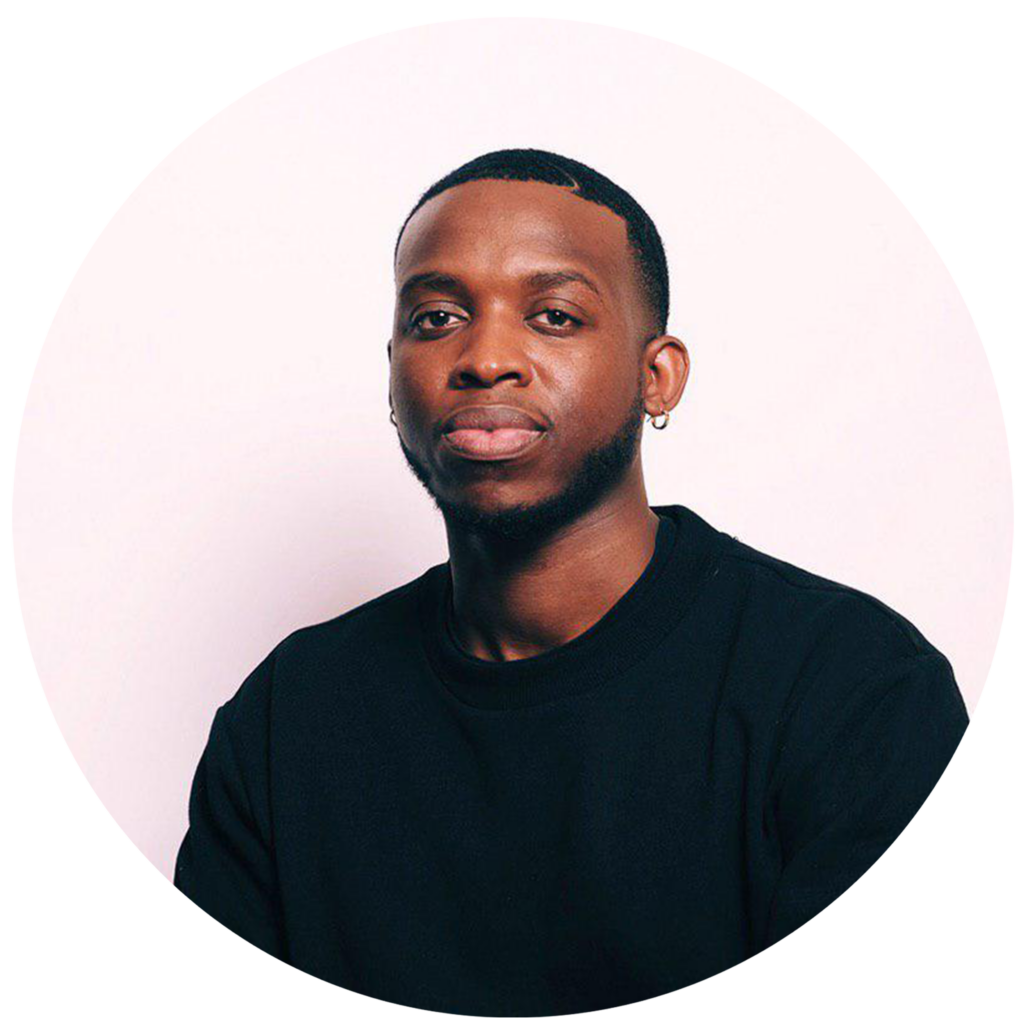 For the past ten years, Dj Lewy V has kept crowds moving with his smooth blends, and has become a "go-to" artist for all types of events throughout Toronto, Canada. Great music selection partnered with the exciting energy he puts into every gig has helped to establish him as one of the most sought-after up and coming Dj's in the city. Every Dj Lewy V set is mixed perfectly for the venue and crowd of any gig.
He also loves spinning in his Local community, while mixing different kinds of events inbetween, such as club events, corporate events, festivals, fashion shows, performance shows, school events & bridal/wedding shows.
Since 2011, Lewy has worked with some of the hottest shows, parties and artists in Toronto. In 2013, he became the official Dj for RISE Edutainment, a performance hotspot based out of Scarborough. He was also the official Dj for the Boxman art Exhibit during the Nuit Blanche festival for repititve years. In between he has helped curate a musical atmosphere for many other companies such as The Remix Project, Nike, Nuit Blanche, and multiple club promoters and owners throughout Toronto.
Lewy seeks to bring the vibe through his music selection and smooth blends in a way that goes beyond the horizons of a field that is saturated with repetitive sounds. He actively seeks to mix sounds that are one step ahead of the normal industry trends.
Looking towards the future, Lewy continually pushes himself musically and professionally and is always eager to share his love for music with those he meets.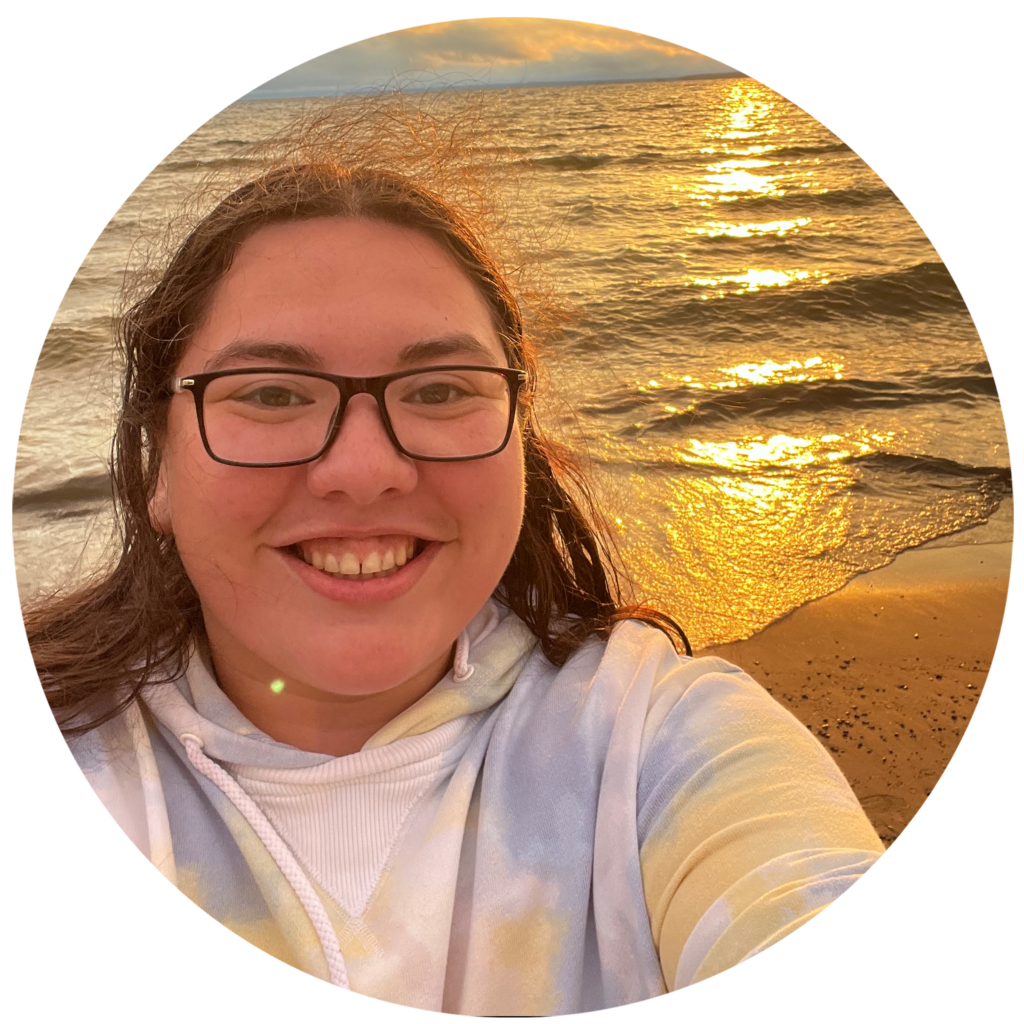 Lucia Laford (Waawaaskone Kwe) is an Anishinaabe and Irish artist born in Baawaating, ON. She is a proud two-spirit Ojibwe Kwe. Lucia paints in a Woodland style that has been passed down to her by her father. Her style is vivid and bright with crisp line work. Lucia has a spiritual connection to her work that has been established through her own healing path. She is a passionate Indigenous Arts Educator and loves working with everyone from youth to the elderly and especially enjoys working with First Nation Communities. Lucia has ongoing workshops and classes year-round that teach Woodland and floral painting, drawing, and leatherwork. Recently, Lucia became a part-time Professor at Algoma University, where she teaches a course entitled "Anishinaabe Art and Material Culture". Lucia is on the lifelong journey of reclaiming her culture and learning Anishinaabemowin.
Heartbeat
Heartbeat represents the convergence and collaboration between two cultures and the music and traditions that connect us. My Grandmother Drum is at the heart of the piece and is painted with Woodland communication and vibration lines. These lines are the visualization of beats, rhythms and sounds that emanate from Drums across Turtle Island and the Globe. That relationship continues around my Drum and is represented by Anishinaabe florals. These florals carry outward the heartbeat and rhythms we all share.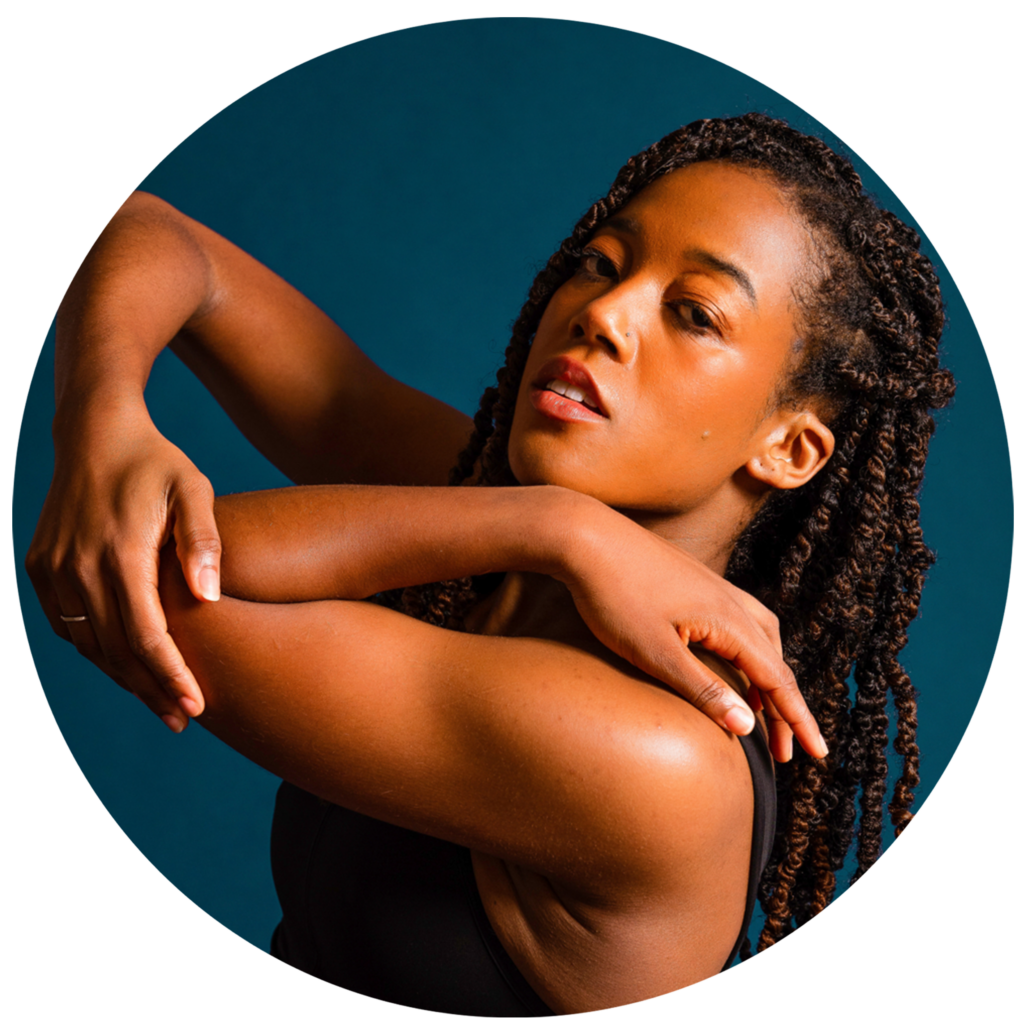 Nailah Renuka is a Canada-based movement artist, known for her dynamic athleticism, inquisitive and daring mindset, and engaging performance quality. A graduate of York University's Dance program, her artistry is deeply inspired by her childhood experiences as a child performer in Toronto's opera and musical theatre scene, and her distinct movement qualities are rooted in her athletic background as an artistic gymnast and current explorations as a ground and aerial circus artist.
Nailah often uses her work to investigate the complexities of identity as a disabled, marginalized, and queer soul, prioritizing interdisciplinary collaboration between juxtaposing visual, musical, and movement-based art forms in order to create a three-dimensional language that infuses the extremes of human physicality and perception with elaborate patterning and verbose imagery.
She has been granted the honour of featured artist for multiple creative residencies and performances in Canada for companies including Theatre Oculus (Reverb); Expect Theatre (Babble.); The And, Stage Company (The Stages, De-Centred); and VIBE Arts (NExT III; Converge).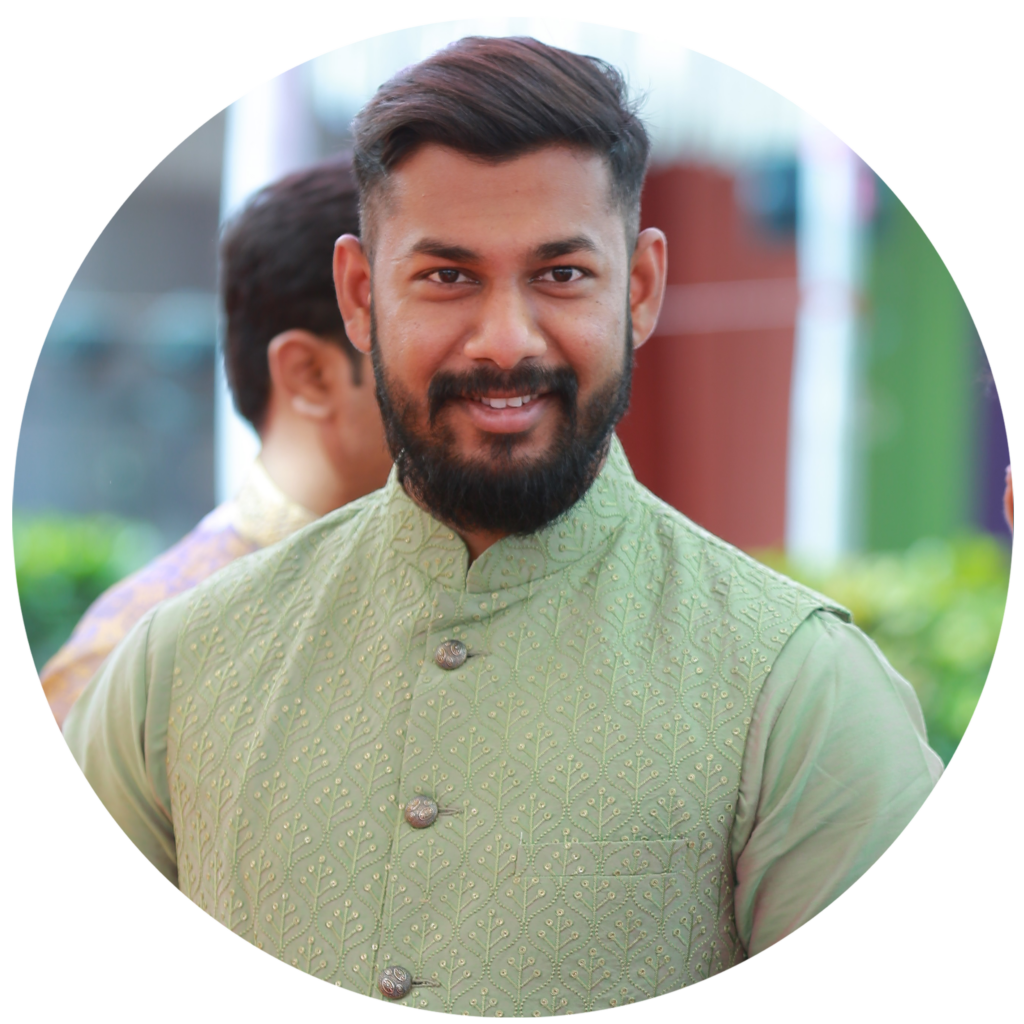 Born in Baroda, India, Siddharth Khaire (aka Graffi sid) is a self-taught artist who gets inspired by day-to-day activities. As a child, he was always to be found with a sketchbook and markers in hand – cartoon characters and funky designs have been a constant in his body of work. Although his artwork was initially inspired by his indigenous roots back in India, Sid was exposed to Hip-Hop as he grew up, while becoming fascinated by graffiti and street art. Once a fan of creating B&W masterpieces, he now paints with an explosion of colors. Sid predominantly approaches his artwork from a street art perspective, with an underpinning of re-contextualization through mixed media materials and his creativity. Also, freehand aerosol and traditional brush techniques are evident in Sid's works, primarily incorporating mixed media such as acrylics, aerosol, inks, markers, and objects, among others. He is always known for his detailed work and creative concepts. Sid has grown up as an artist rather than believing that he is just a "grown-up". Sid came to Canada in 2016. Since then he did many mural projects with the City of Toronto (Street Art Toronto) and different workshops with different non-profit organizations.
Rangmanch
Rangmanch – the platform or performance space wherein an artist sheds their civilian skin and reveals the extremes of humanity, from raw vulnerability to godlike strength and power to the colourful stories translated through their fluency in technique. When displayed on the Rangmanch with the open soul of an artist, a unique story is unveiled to the world in the briefest, fleeting moments – revealing the true magic of performance.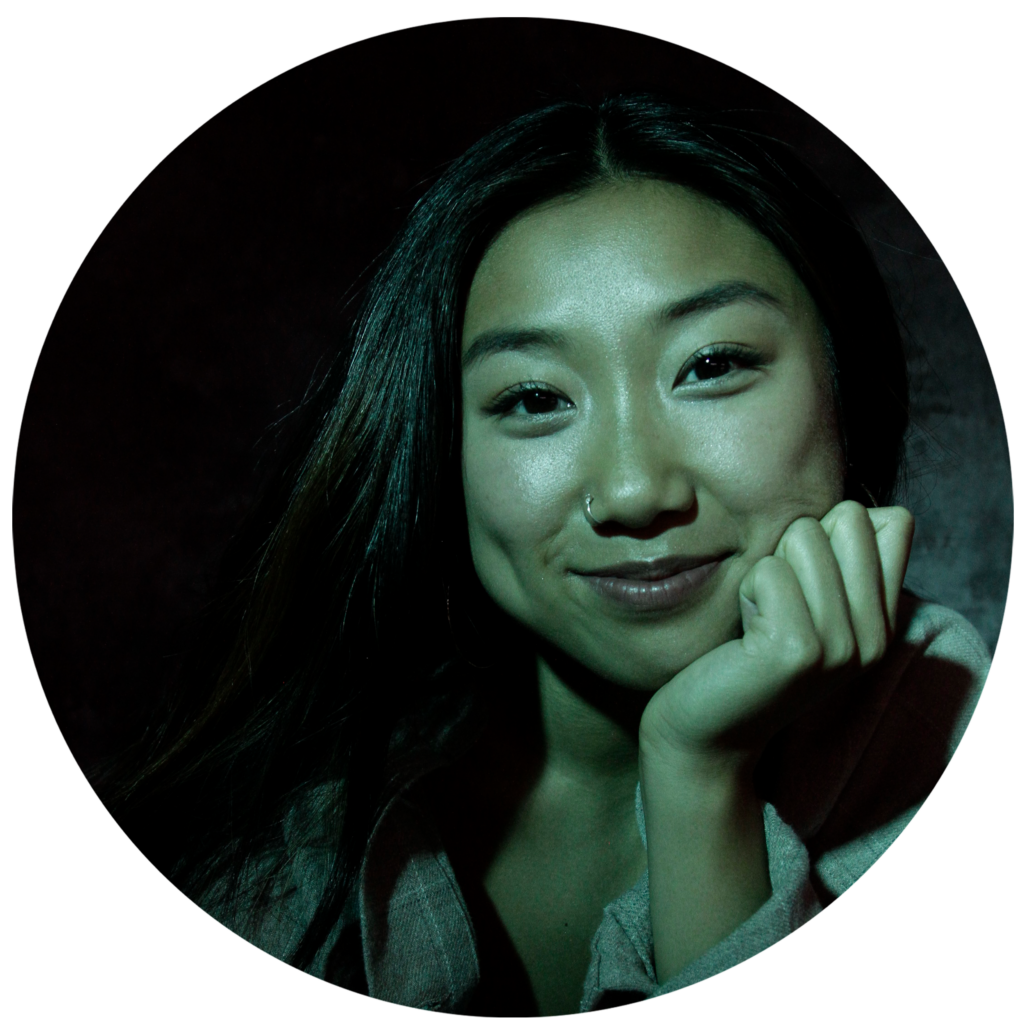 Karyin Qiu is a first generation Hakka Chinese Canadian artist born in the northern city of Whitehorse, Yukon. Breaking was her first love and introduction into Hip-Hop culture, where she later expanded her practice into different Street Dance and classical forms to develop her versatility as a freestyle dancer. Upon moving to Toronto, she became immersed in the dance scene through engaging in numerous community events, performing on renowned stages, film and television, and dance competitions in North America. Her role as an emerging artist on the Vibe Arts team has led her to facilitate curated art programs and expand her capacity as a visual artist through RBC Desire Lines program and the Converge Exhibit.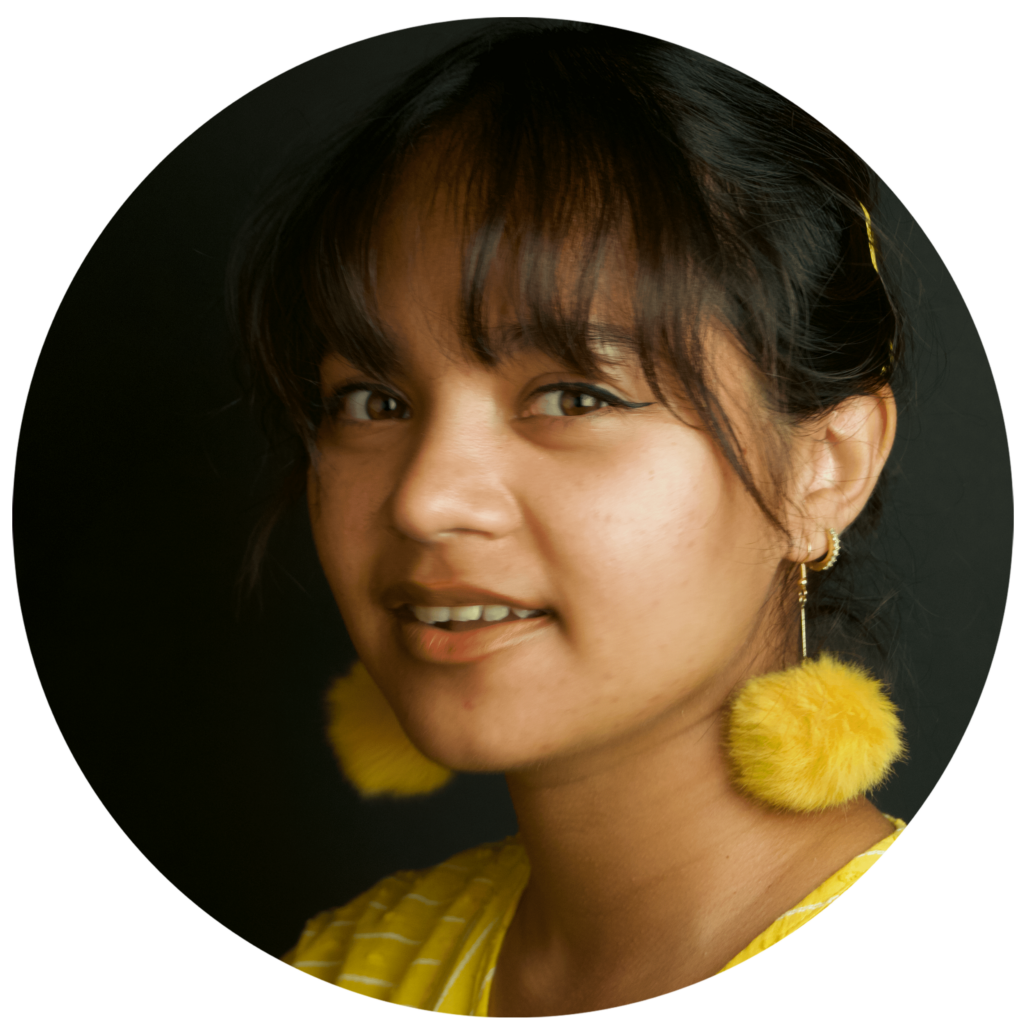 radha joshi raulgaonkar is a toronto based illustrator, designer and muralist. she works predominantly in procreate, collage, gouache and whatever is suiting her fancy that day. her work is a reflection of how she has experienced world, displaying a variety of stories ranging from mental health to everyday observational humour. her approach to art, most of the time, is meticulous and precise with an eccentric flair.
Seeds We've Sown
Seeds We've Sown looks at our summer from the lens of regeneration, healing, and self expression as we explore ourselves outside of preconceived notions society has put on us. This piece embraces the beautiful chaos that is life and our journey of becoming something greater than our circumstances.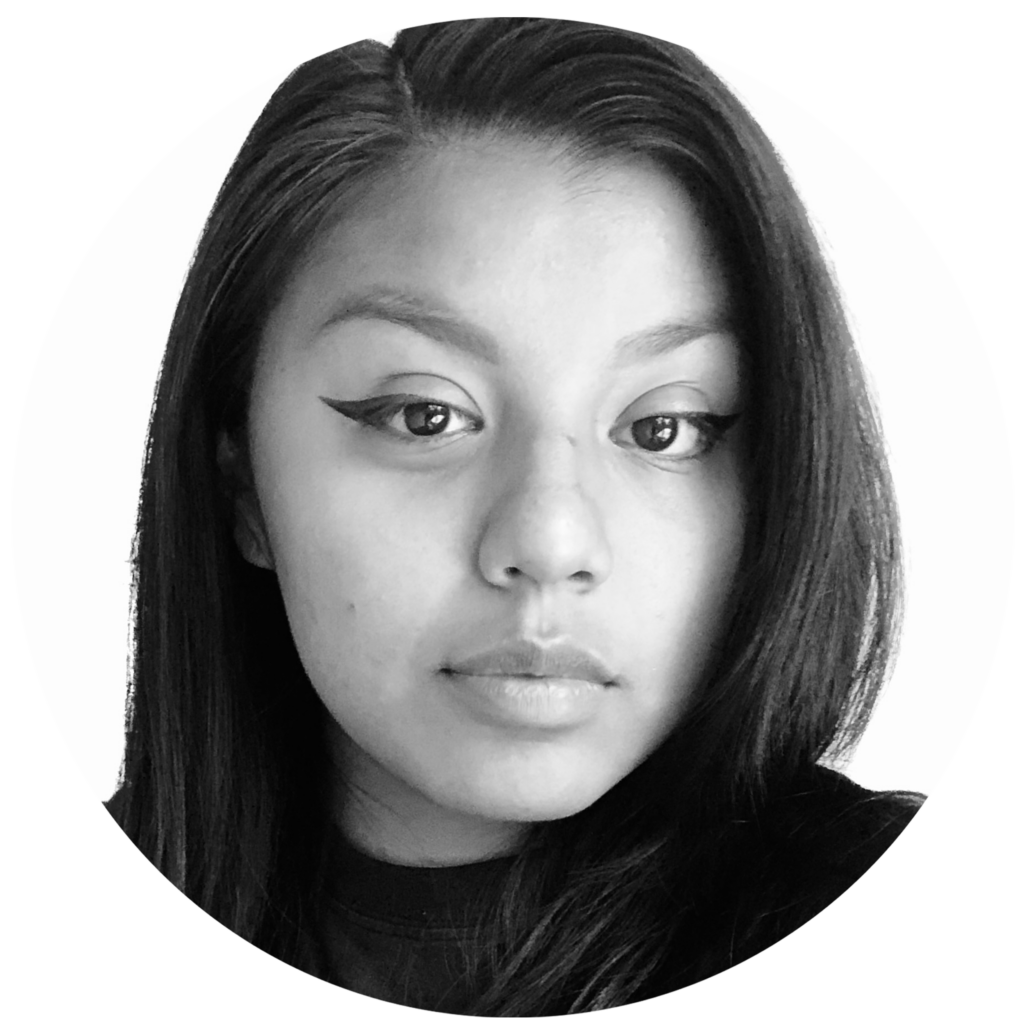 Caterina Sinclair is an Anishinaabe-Filipina multidisciplinary artist, facilitator, mother and entrepreneur from Winnipeg, MB / Skownan First Nation, based in T'karonto, ON. After starting her business in January 2020, Memengwaa Kwe Originals, her art practice soon began to evolve from painting and beadwork, to online workshops with local arts organizations, to larger-scale public art in T'karonto; such as her first mural, "Where We Find Our Roots", for Women Paint Riverside 2021, and her first display of public art panels for VIBE Arts x RBC Desire Lines III: Women's Work at TTC King Subway Station in 2022.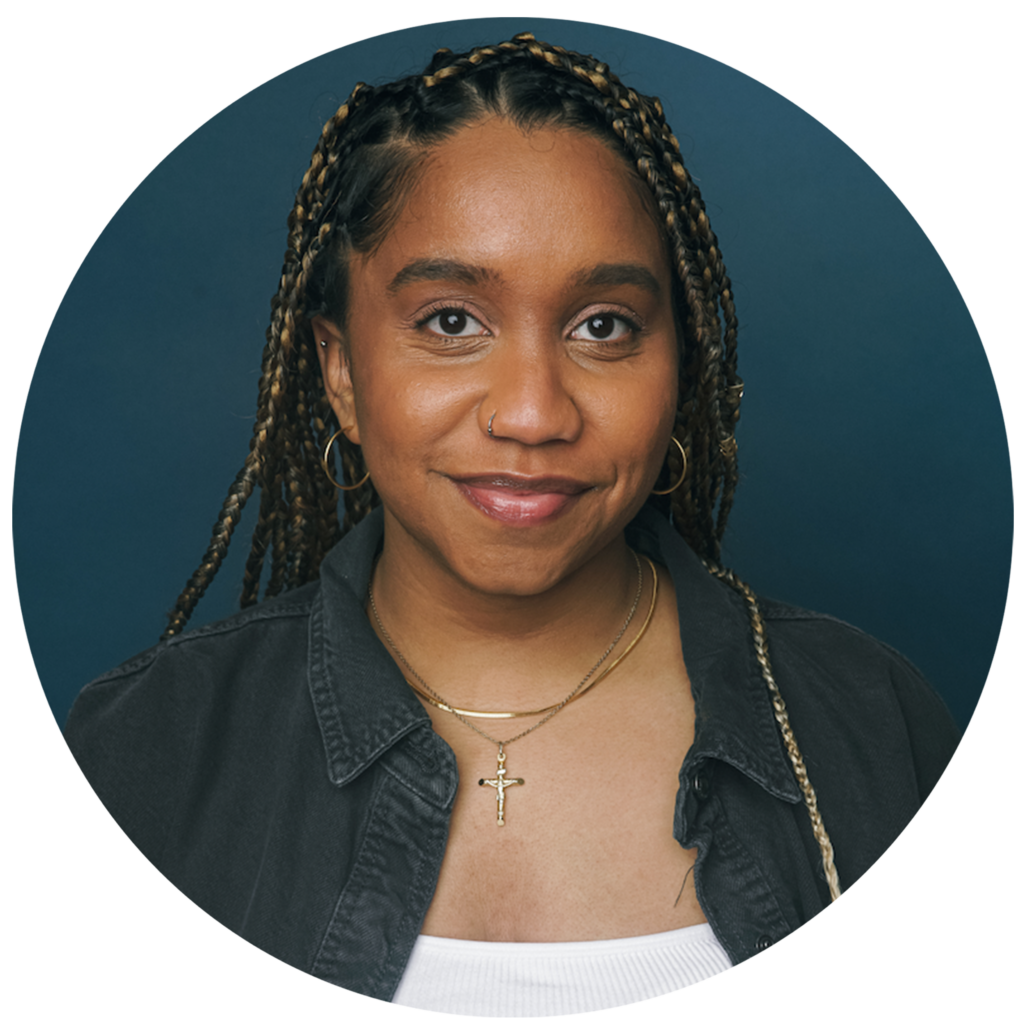 Desiree Mckenzie is an award-winning poet, arts educator, national poetry slam champion, voice actor, and photographer from Toronto. Her poetry and voice have been featured in works for CBC's Poetic License series, When Sisters Speak, Clearco Financial's International Women's Day Campaign, TTC, Kids Help Phone and Home Depot. She facilitates a range of community poetry programming for organizations like JAYU, VIBE Arts, Unity Charity, Poetry in Voice, and Shakespeare in Action. In March 2021, she released her debut spoken word EP, Wet Hair, now available on streaming platforms.
METAMORPHOSE/US
METAMORPHOSE/US combines Desiree Mckenzie's poetry and a digital collage of Caterina Sinclair's fluid ink paintings. The work converses on themes of how colonial empires impacted their family's lineages, and honours the resilience of the hopes and desires our ancestors held for us, outlasting generations of forced change and upheaval.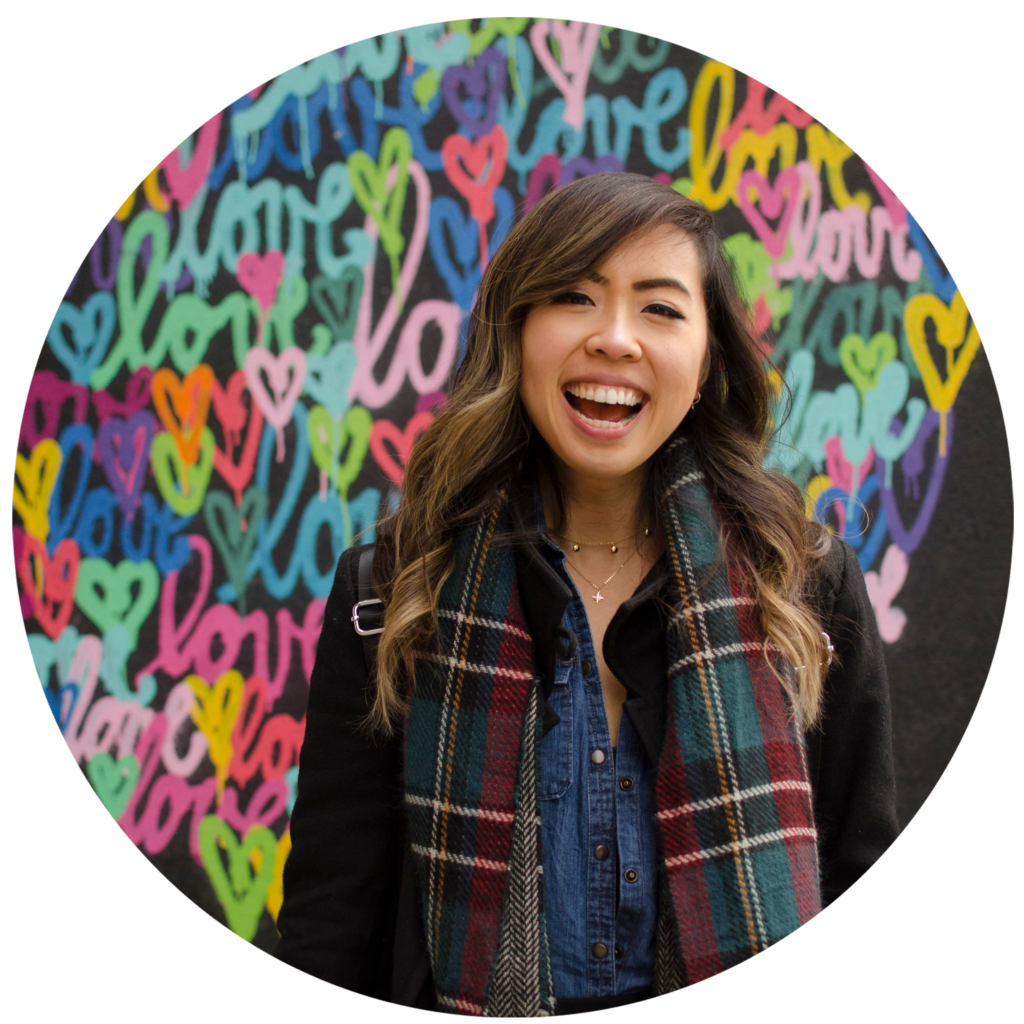 I am a Chinese-Canadian creative and an expert daydreamer, who utilizes my passion in storytelling to produce digital and traditional imagery that provokes child-like wonder and captures nostalgia. My work draws on my interest in mental health, East Asian history and mythology, and all things fantasy. I have worked as a freelance traditional painter and digital illustrator for 7 years, supporting other independent musicians, writers, and artists. I strive to create awareness in the beauty of Asian cultures and otherwise marginalized communities. Alongside my art, my versatile background includes my academic education in business and years of entrepreneurial experience exemplified in three of my start-up businesses. When I'm not painting, you can find me working with my hands- sewing, making resin crafts, and thrift flipping.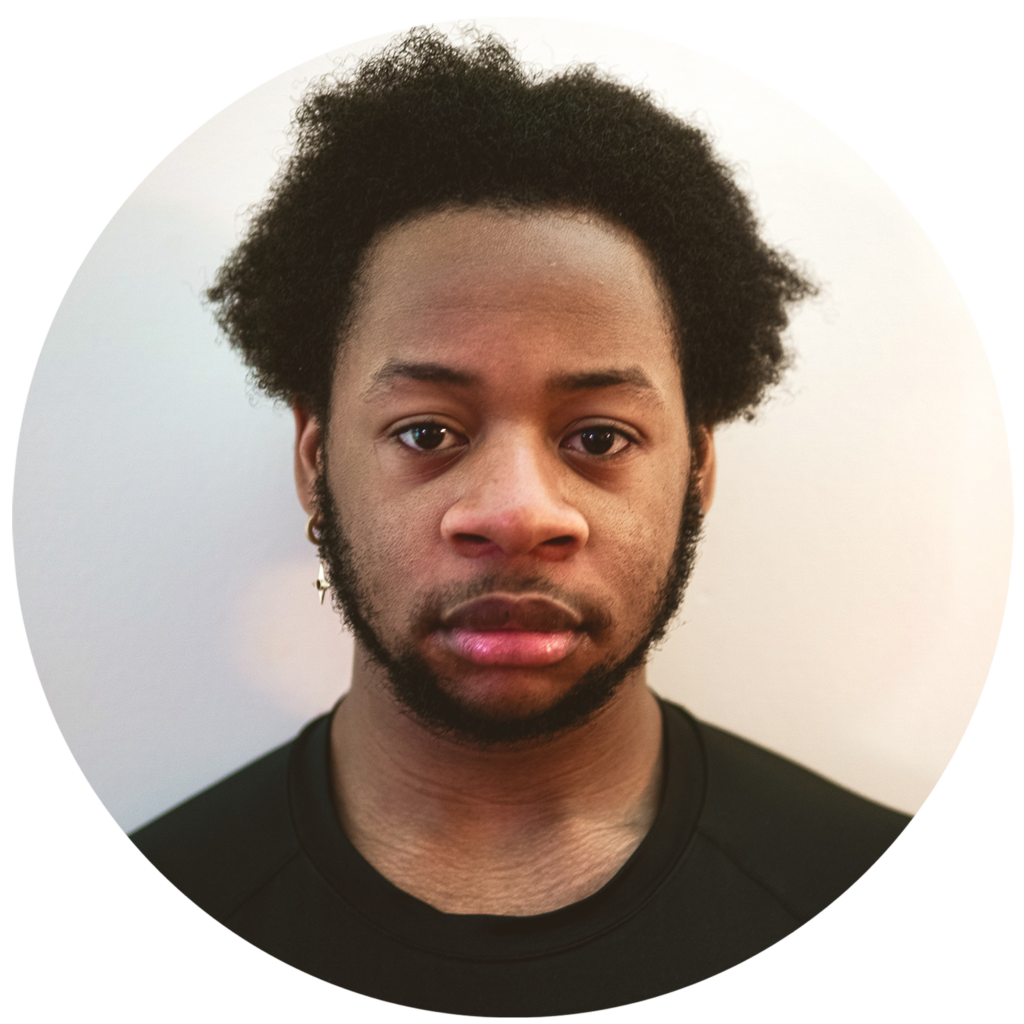 Learning Sun Warrior Poet Singer Thunder Bringer Thunderclaw was Born and raised in Toronto and has had the honor of sharing stages with the likes of Ari Lennox & Jessie Reyes and Opened for the 44th US President Barack Obama Thunderclaw has traveled to a variety of locations internationally to Share Light through Poems and Song on Stages and Radio Stations And aims to use his experiences to assist others in being a step closer to telling their truest story through art
Anima (Soul Power)
In this painting we decided to go with ethereal imagery that was humanoid and seemed to be almost burning from the inside with life energy. We wanted it to relate to the power of youth as well as represent the feeling of the passage of time and the changes brought on by the last few years and the changing of an era.
---
Converge Mentors:
Britta Badour, better known as Britta B., is an award winning artist, spoken word poet, performer, emcee, voice actor and educator. She lives in Toronto.
Most recently, Britta was announced Toronto Arts Foundation's Emerging Artist of 2021. Her works have featured in print, in sound and onstage across North America in notable spheres such as the Art Gallery of Ontario, CBC Arts: Poetic License, The Walrus Talks, TEDx and The Stephen Lewis Foundation. She is an alumna of the Banff Centre for Arts and Creativity Spoken Word Residency and 2018 Toronto Arts Council Leaders Lab Fellow.
As an educator, Britta facilitates artist-training seminars, poetry workshops and social justice programs in partnership with organizations like JAYU, Poetry In Voice, Prologue Performing Arts, League of Canadian Poets and The Power Plant.
Britta holds a Creative Writing MFA from the University of Guelph and is a professor of spoken word performance at Seneca College.
Akua Delfish has been performing Afro-Caribbean dance across Ontario for 32 years. She's honed movements of the African and Caribbean genres, performing at major festivals, television networks, award shows, and competitions. As a seasoned and senior dancer, Akua performed in numerous dance productions, shared the stage with major artists, and presented dance works in festivals as far as Japan. In 2005, Akua was one of five dancers selected to perform for a Caribana Cultural Contingent sent to Hong Kong by their Tourism Board to represent Canada. Recent projects include commissioned work for Kuumba 25, virtual arts development workshops, artist coaching, film festival marketing and series production, as well as publication and lecture opportunities. In other capacities, Akua is a Communications professional in the federal Public Service, an Event Producer with CaribbeanTales Media Group, and an emerging film producer
Ryan Dineen was born in the Cabbagetown neighbourhood of Toronto in 1983. Ryan began his art career with graffiti and his expeditions around the city painting under bridges and nooks and crannies of buildings would later inspire his murals and oil painting. At the age of 18 he was hired to do a cross country live graffiti tour called "Sprite Street Jam". His corporate clients as a graffiti and mural artist would later include Nike, Apple, Redbull, Koodo, Chevy, and Bell Canada among others. Ryan has done graffiti and mural work on countless film sets, music videos and stage productions such as Second City and restaurants such as Piano Piano and El Caballito. Ryan's public art murals have become iconic landmarks in the City of Toronto. They include an Alphose Mucha inspired graffiti mural on Augusta street in Kensington Market, an homage to the humble Pigeons of Toronto at Davenport and Caledonia, and in his own neighbourhood of Cabbagetown his first large-scale mural exists to this day at Carlton and Parliament. At the age of 25 Ryan became the lead artist of the City Art gallery in Corktown. At this time he began to focus on oil paintings, and in 2013 he joined Ingram Gallery at 24 Hazelton Avenue. Since joining with Ingram Ryan has had three solo shows and his painting "Go Home Bay" was featured in the "Identity: Art inspired by the Great Lakes" exhibition in the Lieutenant Governor's suite at Queens Park. Ryan paints a unique perspective on the everyday life of Torontonians and landscapes of the Canadian wilderness. Ryan works out of his home studio in South Riverdale.
Paddy "PUFF Paddy" Leung is a Queer, Asian-Canadian Artist and Arts Educator based in Toronto. Their work focuses mainly on project design for commercial and community events, and installations for public spaces. Their work explores the balance between the ephemeral nature of experience and the joyful permanence of memory. They host workshops and community events intended to get people engaged with the creative process, while sharing their experience of art as a tool for growth and positive change, both personal and collective. Paddy is passionate about bringing the arts to their community and creating community through the arts. In recent years, Paddy's practice has focused largely on community-engagement and providing inclusive art programming for all ages. Working with VIBE Arts, AGO Youth: Free After Three, Xpace Cultural Centre and Design Exchange, among others. Paddy is helping to transform the landscape of Toronto's community arts scene.
Born in 1973, Sandra Tarantino a resident of Toronto, Ontario, Canada received a Bachelor of Fine Arts through Ontario College of Art and Design and participated in the off-campus Florence (Italy) program. She also received a Bachelor of Arts, majoring in Psychology and Bachelor of Education, while continuing to actively participate in the artistic community as Co-Founder and Director of C1 art space from 2004-10 and Co- founding Director of AWOL Gallery and Studios Co-operative from 1996-2012. She is a past recipient of the Visual Artist Grant, Exhibition Assistance Grant and Artist in Education Grant from the Ontario Arts Council. She currently teaches art as a Visual Arts Educator with VIBE Arts, Arts Access and Avenue Road Arts School. She is currently embarking on a new gallery, ceramic studio and project space called Art Quarters Gallery in Toronto. Tarantino's art practice includes ceramic sculpture, shaped canvas paintings and other mixed media works.
---


---
Details
Start: October 6, 2022 @ 6:00 pm
End: October 16, 2022 @ 6:00 pm
Venue
Meridian Arts Centre
5040 Yonge St
North York, ON M2N 6R8 Canada
+ Google Map