January 31 @ 4:00 pm – 5:00 pm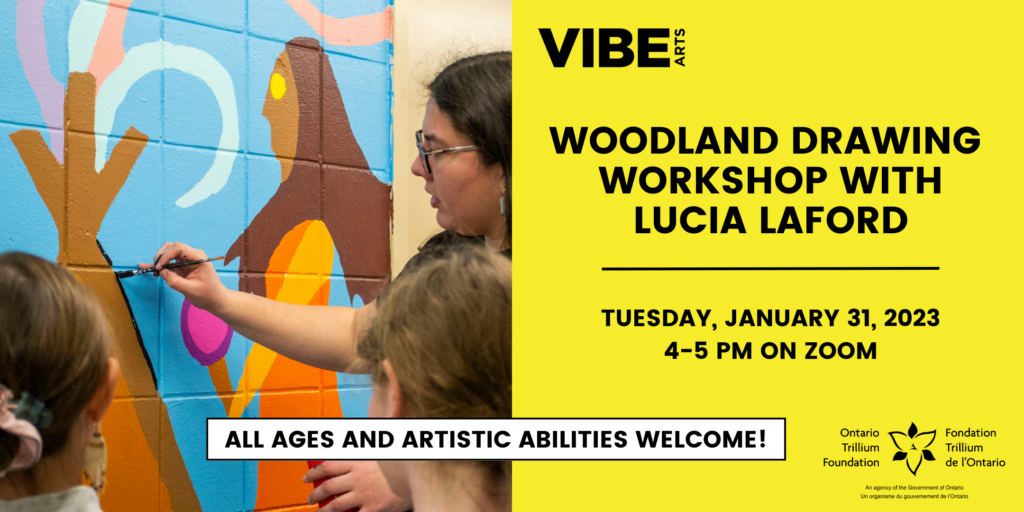 Learn to draw in the Woodland Arts style using materials you have at home! 
---
Guided by Lucia Laford (Waawaaskone Qwe) artists of all ages and abilities are invited to learn how to draw in a Woodland Arts style. This event is free. Registration is required.
Material Suggestions: Paper, pencil, pen, markers, but any drawing tool works!
This workshop is part of VIBE Arts' Boreal Creates programming. Boreal Creates is a project generously funded by Ontario Trillium Foundation that offers a variety of art programs to children and youth in Northern communities, including Sioux Lookout, Thunder Bay and Sault Ste Marie, in collaboration with Indigenous artists and community partners.
About the artist:
Lucia Laford (Waawaaskone Kwe) is an Anishinaabe and Irish artist born in Baawaating, ON. She is a proud two-spirit Ojibwe Kwe. Lucia paints in a Woodland style that has been passed down to her by her father. Her style is vivid and bright with crisp line work. Lucia has a spiritual connection to her work that has been established through her own healing path. She is a passionate Indigenous Arts Educator and loves working with everyone from youth to the elderly and especially enjoys working with First Nation Communities. Lucia has ongoing workshops and classes year-round that teach Woodland and floral painting, drawing, and leatherwork. Recently, Lucia became a part-time Professor at Algoma University, where she teaches a course entitled "Anishinaabe Art and Material Culture". Lucia is on the lifelong journey of reclaiming her culture and learning Anishinaabemowin.