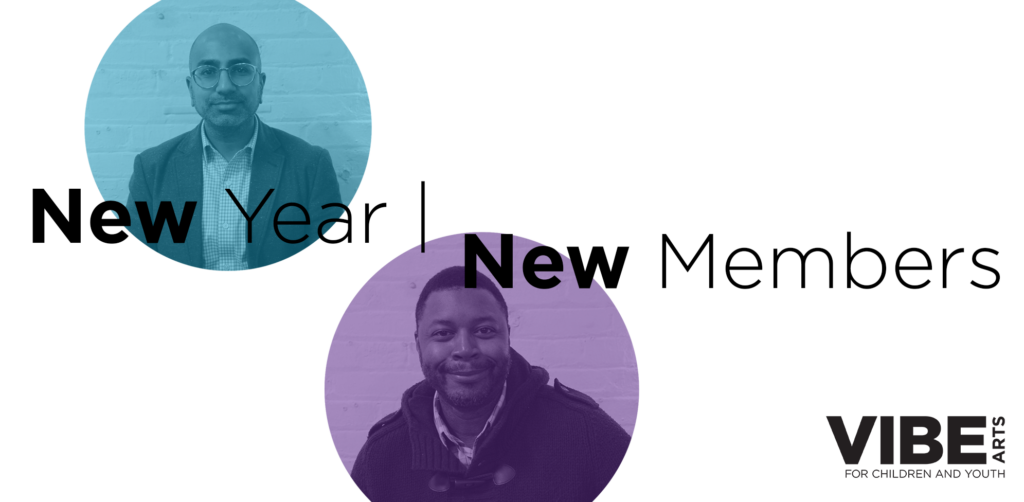 The VIBE Arts Board of Directors fundraise, advise, govern, oversee policy and strategic direction, as well as assist with the leadership and promotion of VIBE Arts. Members of our board play a crucial role in our organization. Each member joins us with unique life and career experience and helps our organization achieve its goal of allowing children and youth in under-resourced communities access to high-quality arts expression and education.
We are ecstatic to announce that in 2019, Dwayne Morgan and Nish Shah have joined our Board as Directors. Dwayne Morgan is a writer, performer, and author of twelve books. A Scarborough Walk of Fame Inductee, Morgan uses art to unleash human potential and possibilities. On joining VIBE Arts, Morgan has said that is he happy to be a part of the board and looks forward to enhancing and supporting the work of the organization.
Nish Shah is a passionate marketer who has spent his career working at the intersection of consumer behaviour, marketing strategy, and design. In his current role, as the Vice President of Strategy at Initiative, a global communications agency, he works with a wide range of clients including RBC, Amazon, LEGO, Carlsberg, CBC, and Destination Canada.
We feel overwhelmed with gratitude to be entering 2019 with the support of a strong board of directors. Nish and Dwayne will join Danny Cappe, John Armstrong, Tina Bates, Clare Haskell, and Jamie Angell in leading VIBE into a successful year. We look forward to reaching over 9,000 children and youth this year through our accessible programming and mentorship.
If you are passionate about youth arts and would like to make a difference in your community, consider applying to join the VIBE Arts Board of Directors. Together we have the power to create vibrant communities and ignite expression through the arts.