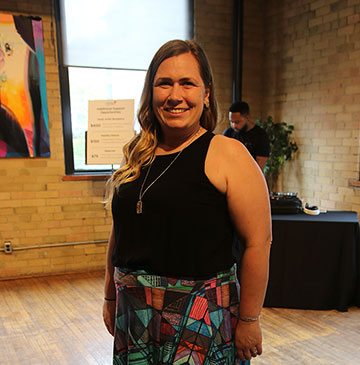 This March, VIBE Arts' longtime Executive and Artistic Director, Julie Frost moved on to a role at the City of Toronto.  During this transition, VIBE Arts' Board of Directors placed their focus on the future of the organization, seeking the leadership necessary to propel VIBE Arts into its next stage. Following the significant growth of the organization, the Board recognized that the Executive and Artistic Director roles require two different skill sets and should no longer be managed by one individual. We are pleased to announce that in June 2018, the Board of Directors selected Katie Hutchinson as the new Executive Director of VIBE Arts.
Katie Hutchinson joined VIBE Arts in May 2017 as Operations Director, where she reconstructed multiple aspects of the organization. Bringing extensive knowledge in financial and project management and unmatched leadership skills, the board found the leader they were looking for in Katie. In April 2018 she assumed the interim role.
Before VIBE, Katie strengthened her background in management as Program Manager and Managing Director of a large non-profit social enterprise, where she managed a team of over 40 staff. Katie's strengths come into play to create high performing teams and collaborative, human-centric workplaces. Outside of VIBE, you can find Katie on the volleyball court, where she has coached youth for 10 years. She has spent the past five seasons with the Ontario Volleyball Association at Leaside Volleyball Club. On and off the court, she fosters female participation and leadership, and brings that same resilience, drive and energy to VIBE.  
Katie holds a Bachelor of Arts and a Bachelor of Education and is completing her Leadership in Organizations post-graduate certificate at Ryerson University. Katie is a life-long learner with a passion for organizational behaviour. She aims to create an organization that can scale, thrive and continue to have a positive impact on communities.
The Board of Directors is thrilled to have Katie at the helm of our organization. We are more than confident in her ability and are sure of her passion. Katie Hutchinson will continue to grow VIBE Arts and bring much needed arts education to communities across Ontario and beyond.


Katie Hutchinson pictured above at Arts Effect Auction 2018 wearing a skirt designed by VIBE Artist Huda Eldardiry.