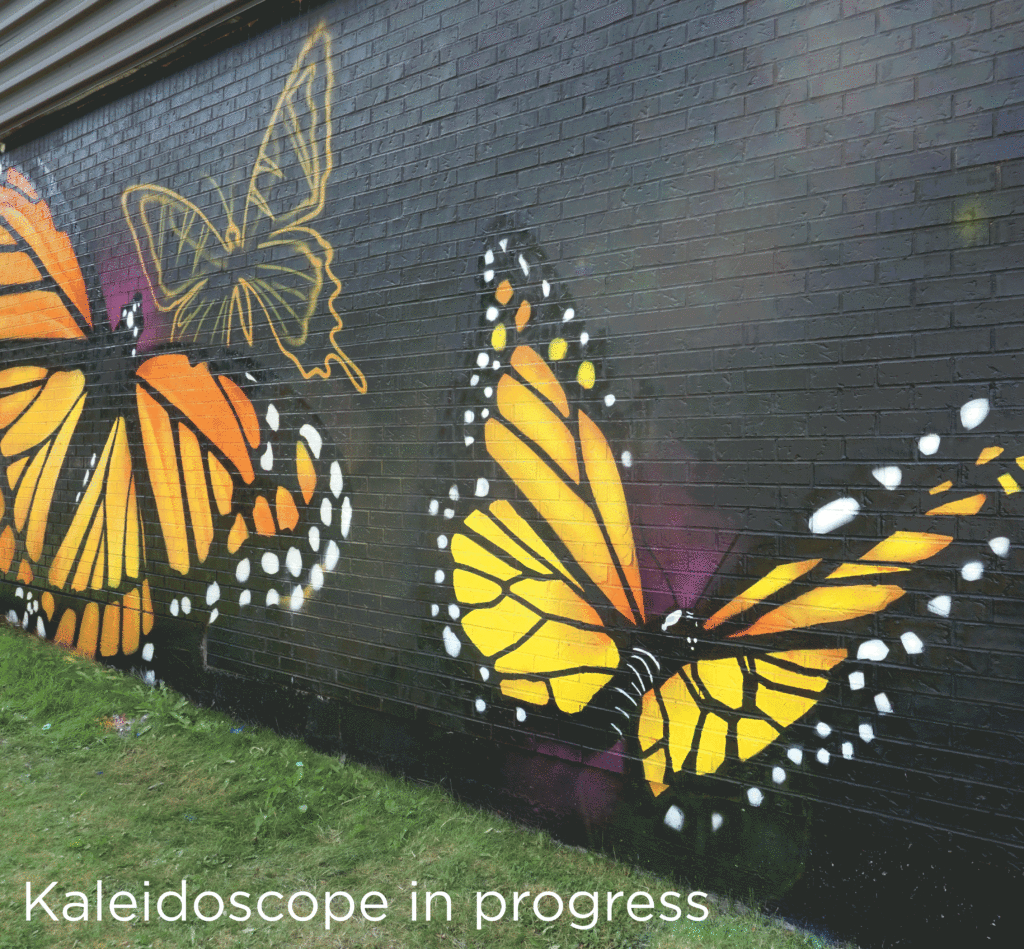 This July, VIBE Arts teamed up with StreetARToronto (StART) and began the process of transforming a huge stretch of brick wall into a piece of art. The finished mural, located at Centennial East Recreation Centre at 1967 Ellesmere Road in Scarborough, features multiple species of butterflies and has been named 'Kaleidoscope', after the word meaning 'a collective of butterflies'. VIBE Arts will be hosting a community unveiling of Kaleidoscope at the Rec Centre on Tuesday, September 25th from 10-11am. All are welcome to attend.
The lead artist of Kaleidoscope was Ryan Dineen. Following a series of community consultation meetings with members of the Scarborough Community, Dineen spent four weeks working closely with youth employed through Tropicana Community Services' Youth Job Connection, offering painting expertise in both aerosol and hand-painting. Dineen was assisted by VIBE Arts Assistant, Frannie Potts. "Thank you to my assistant [Frannie Potts] for being such a great teacher!" Dineen wrote on his Instagram. The pair worked fabulously together, and their collaboration truly demonstrated the importance and impact of working with children through the arts.
On July 25th, as the butterflies were receiving the final touches on their wings, child and youth participants from the Scarborough community tried their hand at painting. Participants collaborated on a series of wooden butterfly cutouts which were later installed directly onto the mural. These community-made butterflies will remain a part of Kaleidoscope as a permanent installation. The final mural proudly showcases work made by youth of many different ages and captures the spirit of the community centre – a place where Torontonians, young and old, come together.
VIBE Arts is ecstatic with the completed mural and are overflowing with gratitude for the opportunity to work collaboratively with StART, Toronto's Ward 38 community, and all of the artists involved. We look forward to the official launch of Kaleidoscope and hope that it inspires creativity within all who see it.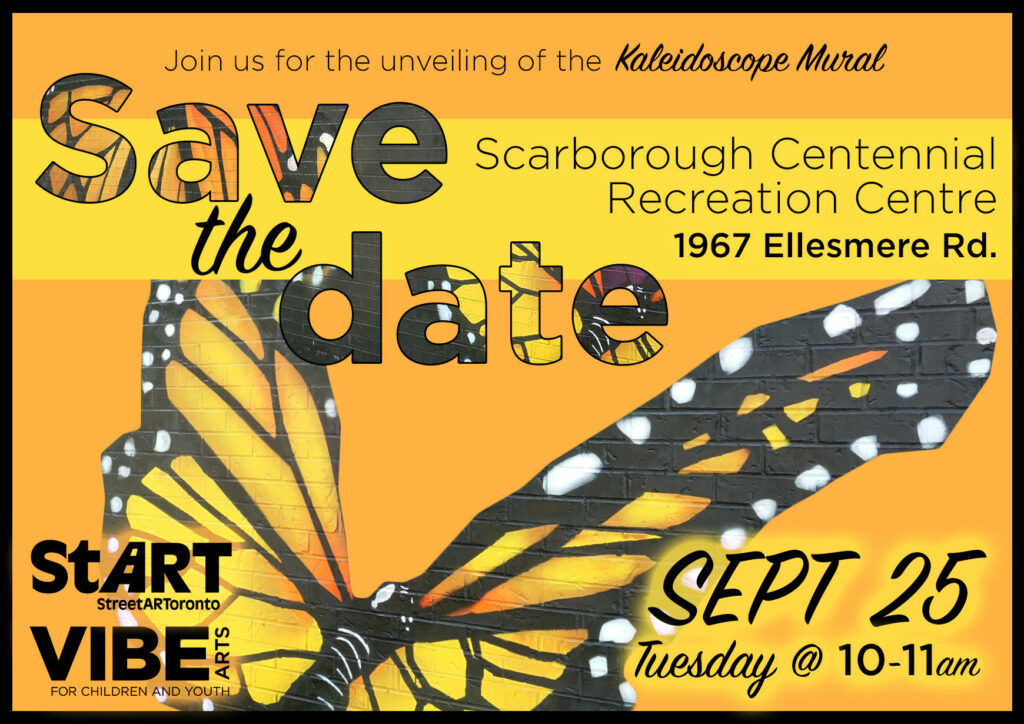 StreetARToronto is The City of Toronto's suite of innovative programs designed specifically for streets and public spaces. Initiated in 2012 as an integral part of the City's Graffiti Management Plan, StART has been successful in reducing graffiti vandalism and replacing it with vibrant, colourful, community-engaged street art. Be sure to stay in the loop – follow StART and VIBE Arts on social media!