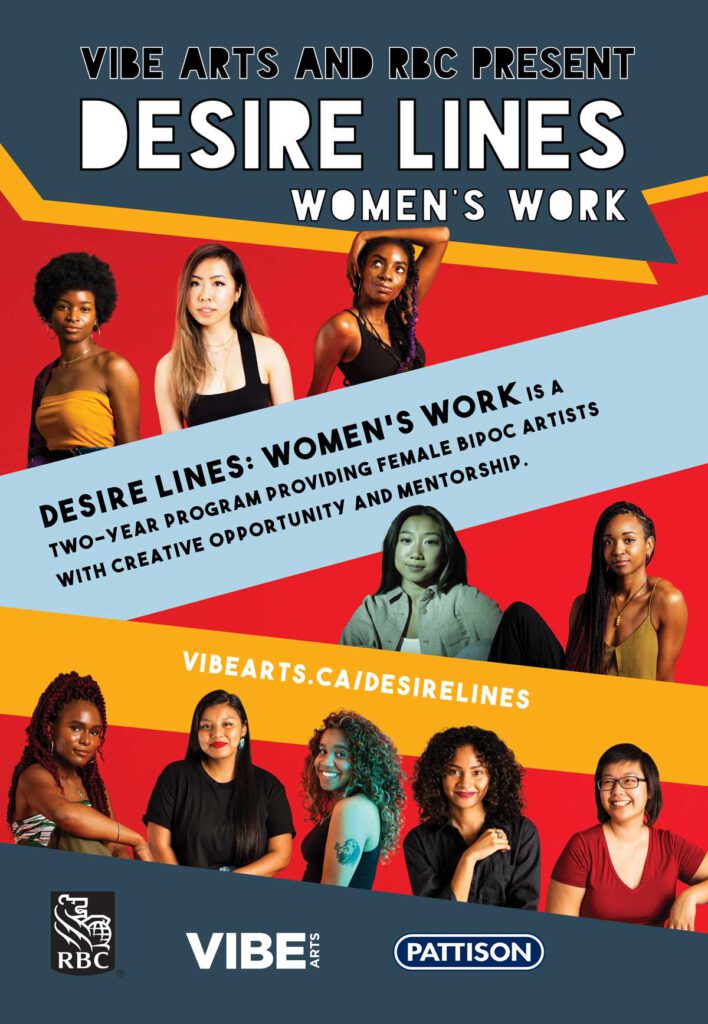 January 17, 2022… VIBE Arts is excited to introduce RBC Desire Lines: Women's Work and the program's cohort of Artists.
RBC Desire Lines began in 2019 as a two-year art-in-mentorship program awarding young, emerging artists the opportunity to exhibit their work in subway stations across Toronto. In 2021, VIBE introduced Desire Lines: Women's Work. With the disproportionate effect the COVID-19 pandemic has had on women and the BIPOC population, VIBE identified an urgent need to support and platform BIPOC female artists. Desire Lines: Women's Work was born, deliberate and specifically designed, to provide young female artists the opportunity to grow their careers in the arts through networking, mentorship, professional development and exhibition opportunities.
The Desire Lines: Women's Work artists have been connecting with their mentors, who have helped them skill-build and offered advice on their artwork creation, and creating their own large-scale public art pieces. These talented artists have experienced a wide offering of Professional Development workshops and virtual learning spaces where they were able to nurture their artistic and career paths, while conceptualizing and leading their own online RBC Desire Lines programming for young artists.
This work has culminated in a city-wide public exhibit. You can view their original artwork in TTC stations across the city starting January 17, 2022.
EDIT: January 26, 2022. We thank those who reached out to us about the name of this program. We have heard your call to do better and will be changing this language in all communications going forward and in further iterations of the program.

Get to know the RBC Desire Lines: Women's Work Artists:
Alia Ettienne: "I am a Black woman of Afro Caribbean descent from Toronto. I consider myself quite experimental as my creative endeavours include facilitation, theatre performance, spoken word and dance/movement."
Caterina Sinclair: T'karonto-based urban + reconnecting Anishinaabe-Filipina multidisciplinary artist & mom from Winnipeg / Skownan First Nation, MB. "It feels like such a unique opportunity to put a little something bright and beautiful into a more mundane part of someone's day. I'd be honoured if a thought, a detail, an image I shared here stays with someone in a good way."
Cheyenne Gold: Multi-disciplinary artist whose work aims to explore deeper questions about culture, identity, and belonging.
Desiree Mckenzie: Award-winning spoken word poet, photographer, and teaching artist. "The opportunity to exhibit my work on the TTC feels very empowering. It's awesome being able to express myself on such a large scale as it deepens the impact my work can have, and all the walks of life it can reach. This is a great example of how as an artist, you never fully know what your impact could be – but that's the beautiful thing about it. There are infinite possibilities."
Glo Romy: Graphic design gyal, shutterbug sista, and Hip Hop head. "I'm grateful to have this platform to share my passion for art and design, while bringing forth my own perspective and knowledge."
Karyin Qiu: Interdisciplinary Artist & Self Empowerment Advocate. "It is an honor to receive the opportunity to showcase my work in this capacity. This is my time creating a solo art project on a large scale such as this, so I am thrilled and proud to be recognized and celebrated in this way, especially alongside other beautiful and talented BIPOC women."
May Chook (Dawn Rosa): Vocal artist, music educator, community organizer. May is a Malaysian-born music person who gets inspiration and joy from the people and community around them. "The mentorship and financial support have been great and supportive to my creation. I got to relearn about my music and explore new ways to write. This project also led me to rediscovering my musical identity and then naming my musical practice as Dawn Rosa, which is a literal translation of my Chinese name."
Nyaomi: A multi-disciplinary artist focusing on interiors and interior décor. She combines her passion to create with her interests in holistic health & wellness to spark change from the inside out. "Amazing learning experience. It's funny that in creating the workshop, I realized that I also needed to revisit the basics of mark-making for my own art practice/growth. Also, a great reminder to keep things simple. There's a lot to be seen/felt/experienced in simplicity."
Serene Illustrations: Serene's work focuses on escaping reality and finding freedom in other universes. Her inspirations stem from the innate curiosity of a child's mind, the rich history of her Asian Heritage, and the daily struggles of anxiety. "I'm ecstatic to have the opportunity to have my artwork exhibited at such a large scale in the TTC! One of my goals is to illuminate the ways in which my ancestor's past continue to enrich the present through mythology, traditions and celebrations. This exhibition helps me share the beauty of my culture."
Shaniece Phillips: "As an artist I often feel alone in my process and think they have to fight through the the self-doubt on my own. It was great to have so much support and encouragement for my mentor when I was overthinking, unsure or second guessing myself."
Want to look back at the first two cohorts of Desire Lines artists? Visit the online gallery showcasing their work.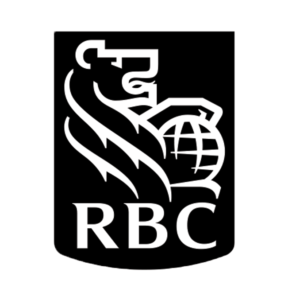 Desire Lines is made possible by RBC and presented in partnership with PATTISON Outdoor Advertising.