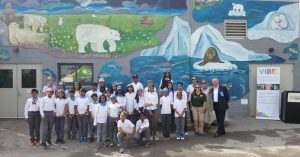 On Tuesday, September 26th VIBE Arts had the pleasure of joining the the Toronto Zoo and the students and teachers of Military Trail Public School (MTPS), in the unveiling of a 50+ foot Polar bear mural, installed on the back of the Toronto Zoo's Polar Bear Habitat.
This hand painted mural was the outcome of the teamwork, artistry and vision of the students of MTPS and the Toronto Zoo, who collectively aimed to make a difference in the lives of our world's polar bears by spreading awareness and creating advocacy around polar bear conservation.
THE IDEA:
The project originated as an idea belonging to Toronto Zoo Wildlife Care Supervisor, Hollie Ross, who realized the impact that this artwork, and its process, could have in educating the public and future generations about polar bears and what we can do to be a part of their survival. It was important to Hollie that the community was involved in the creation of this project, to really inspire the public and especially the youth, to take on this issue. VIBE Arts was thrilled to be able to partner the Toronto Zoo with the students of MTPS to bring the mural, titled Polar Bears in the Arctic, to life.
THE PROCESS:
Before creating the mural, the students of MTPS enjoyed an educational presentation led by the Toronto Zoo's Polar Bear Keepers, and then returned to their school to combine their new understanding of arctic life with lead artist Sandra Tarantino's vision, to create their masterpiece.
Over the course of two months, VIBE Arts worked with Sandra and 62 MTPS students, grades four through eight, in facilitated art workshops that gave many students who were newcomers to Canada, and the school, an opportunity to build relationships with other students, develop confidence as a student and artist, and learn more about Canadian species and their environments.
THE RESULT:
By painting 21 hand-painted panels depicting arctic animals and their unique habitats, the students were key players in creating change, both in design and in action, to better the lives of the Polar Bears who inspired their mural. Through this amazing partnership, the students of MTPS created a beautiful and important mural, in an art education process that they will not soon forget.
It is thanks to the community partnership between VIBE Arts, The Toronto District School Board, The Toronto Zoo and The Great-West Life Assurance Company, that zoo-goers can now take a ride on the Zoomobile and be inspired by the beautiful artwork of MTPS students mounted on the Polar Bear Habitat Exhibit, while being reminded of the extraordinary lives of our world's arctic species.

"I didn't think I liked art, but now I know I love it." – Asna, Military Trail Public School Student