By: Alannah Johnson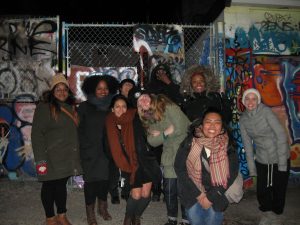 As we move into the winter season, it is the perfect time to plan fun activities in your community to engage local youth and combat the cold – or get out and play in the snow!
On Saturday, November 19th, talented artist Trevoy Williams held a DJing workshop as a part of our neighbourhood games initiative! It was a fun and interactive workshop, where young men of colour from all over the GTA came together to learn more DJing skills and got to meet and socialize with new faces. We look forward to hearing about more games that are taking place within local Toronto communities.
If you are interested in volunteering and have any ideas about possible neighbourhood games- the planning is simple! All you have to do is visit the P4K Neighbourhood Games page at www.playingforkeeps.ca/plan-neighbourhood-games and follow the step-by-step guide to successfully carry out your activity and then, enjoy! Micro-grants are available (Up to $50,) to cover costs of supplies. If you have any questions, please email Alannah at alannah@vibearts.ca .