In July 2023 VIBE Arts and artists Kseniya Tsoy, Rob Matejka and Frannie Potts created a community mural outside of Church Street Espresso (585 Church St, Toronto). The Story In Your Cup of Coffee is inspired by the cafe–an informal and very integral local community hub in The Village bringing people together through the shared love of a cup of good coffee.
The mural was shaped by Church Street Espresso owner Joe's initial ideas about the origins of coffee; from growing coffee to collecting it and bringing beans before it wakes us up in the morning.
The Story In Your Cup of Coffee features faraway landscapes, mountains, different stages of coffee plant growth and harvesting, and lastly and most importantly the human who works tirelessly to tend to the plants and pick the beans. The human is almost invisible in this mural, as we rarely make that connection.
"This project was the biggest scale that I have brought my personal style and design to so it means a lot to me", said lead artist Kseniya Tsoy.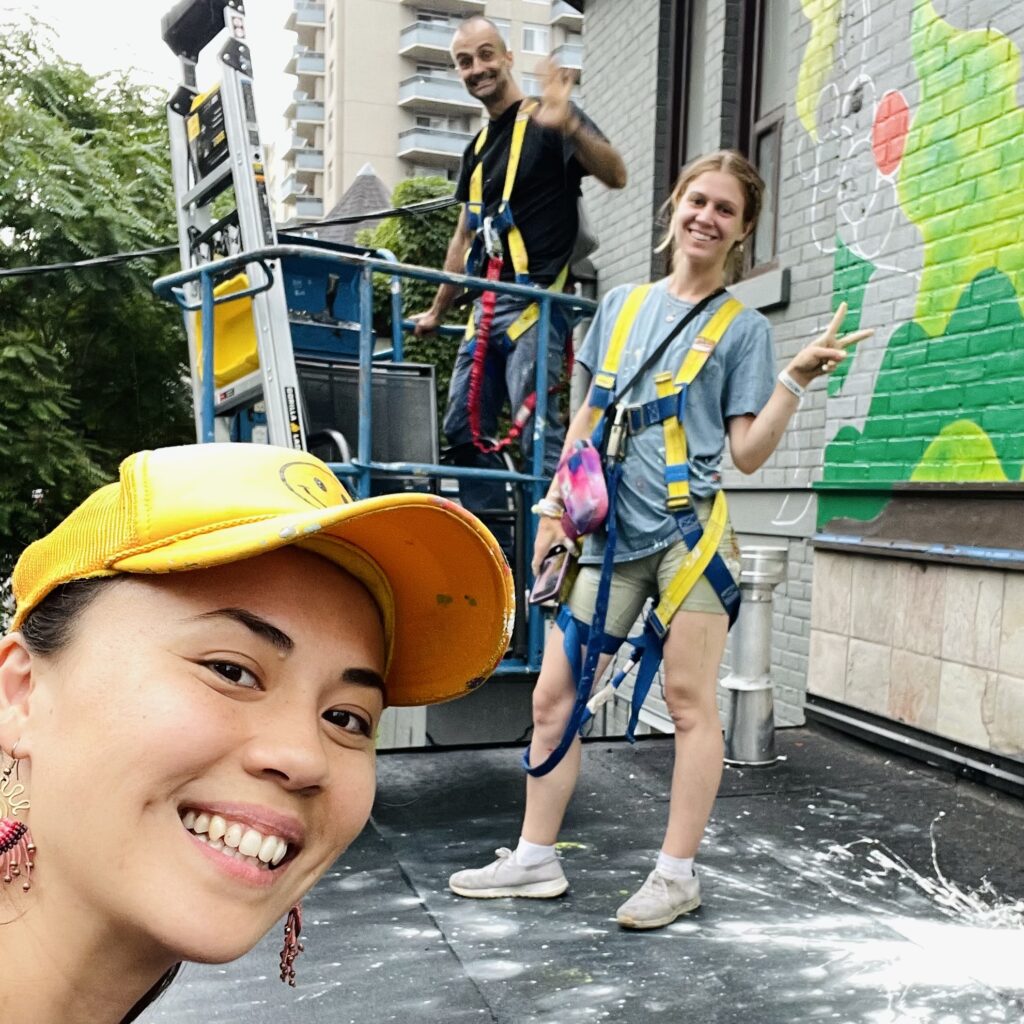 This mural was also a beautiful moment for mentorship. Rob Matejka is a longstanding Established Artist on the VIBE Arts Roster, who joined the project as an experienced mural artist (and boom lift extraordinaire). Rob has mentored both Kseniya and Frannie over the years as they began their respective arts careers. 
In 2018 Kseniya learned about murals for the first time from him via Mural Routes' Mural Art Career Development Program. It is also Rob who told Ksenyia about VIBE and encouraged her to join the VIBE Arts roster.
Rob and Frannie have also previously collaborated, with Rob being the lead artist on our 2017 City of Toronto Cultural Hotspot project at East York Community Centre and Frannie as the emerging arts assistant. These three artists were able to reunite and bring Kseniya's design to life.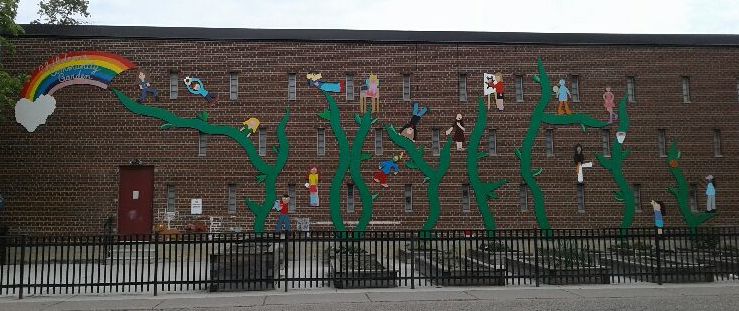 VIBE Arts is ecstatic with the completed project and we hope that it inspires creativity and brings folks together through coffee and community. The artists and VIBE wish to extend their gratitude to the team of Church Street Espresso (Joe, Larry, Sergio, Gabriela, Angel, Leandra) who kept the artists nourished and cared for and to the community members who engaged with the mural and shared kind words to keep the artists going in the heat and rain: Michel, Bernie, Ron, Michelle, Ron, Luciano, Mo, Ali and many others who they haven't had a chance to ask their names.
It is lead artist Kseniya's hope that this mural inspires us to send kind thoughts to people who made our coffee and start the morning with gratitude.