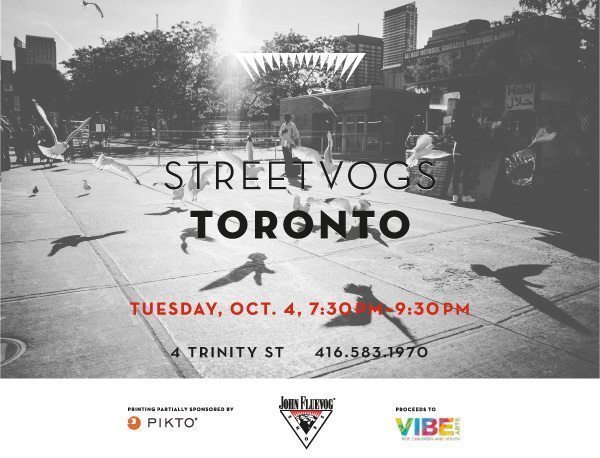 VIBE Arts has partnered with John Fluevog for their StreetVOGS Exhibition!
StreetVogs  is a cool initiative that brings together local talent in the cities that Fluevog Shoes is active in and showcases the cultural beauty that inhabits that city, check it out in their Instagram collaboration. John Fluevog is a Canadian based shoe designer that has created artful shoes for over 40 years.
Come out on October 4th to Fluevog's Toronto Location in the Toronto Distillery  will be raising  funds for VIBE Arts. There will be drinks, refreshments, and a silent auction featuring 20 original, framed black and white prints by Ryan Tacay, aka. @phraction or @phraction_street.  Even further funds that will be raised from the silent auction profits, and 15% of all shoe sales during the event will go to VIBE Arts.
October 4th, 7:30 – 9:30
Silent auction of Ryan Tacay's photography (artist's portfolio: http://www.ryantacayphoto.com/)
Fluevog Distillery Store, 4 Trinity St.
RSVP: https://www.fluevog.com/flueblog/a-streetvogs-show-at-the-distillery/
The proceeds will go to support this program:
ArtWalk Creations – 16 weeks x 1 schools
A community-based, fashion/dance project that merges textile-based art, photography, and performance. Facilitators of the program have expertise in visual arts, fashion runway coaching, fashion photography, and a hip-hop dance. Participants will use reclaimed clothing, fabric, textiles and found materials to design and create fashion artworks within an eco-art twist. They will then be coached on how to walk a runway in their creations, including how to incorporate choreography into their fashion displays. Participants will then be part of a photoshoot where they will capture their creations and poses.